FraternityX Deals And Discounts – Get 30% Off!
Rowdy (and often drunk) frat boys having gay sex – it's the ultimate college fantasy
FraternityX Review
It's the ultimate college fantasy – a frat house where the young, horny frat boys get drunk and have rough sex with each other. Well, you can stop dreaming – that's exactly what you get on FraternityX.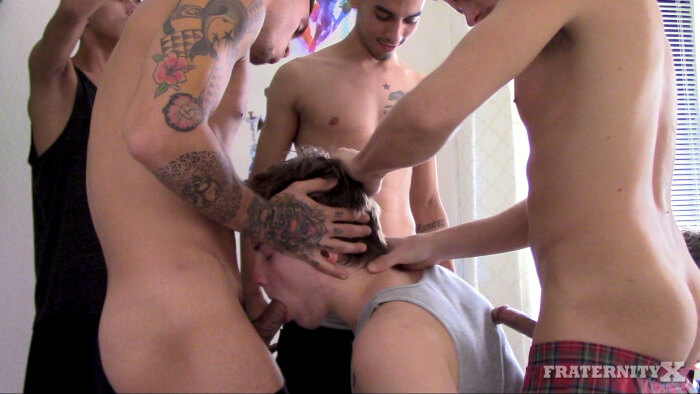 The website says something about "an official Fraternity at a University in Arizona just outside of Phoenix" – well, even if that's not exactly the case, they sure make it look like an official fraternity. Messy rooms, messy guys, a lot of drinks, and… gay sex.
The content is divided into episodes, each with a new guy (or guys) that – usually – manage to annoy their fellow frat bros. The punishment? A face fuck, or a bareback ass fuck, maybe some paddling, some gagging… you get the idea. And yes, it's as hot as it sounds.

Although FraternityX doesn't offer an annual deal (as of this writing), their special deal on the recurring monthly membership, cuts the price by 30%. It can still be cancelled whenever you want – but once you start, you're going to want to keep it coming…
FraternityX Features:
Hundreds of HD videos
Unlimited streaming
Weekly updates
Amateur frat boys, group sex, gangbangs…
Don't Miss This Deal - Grab It Before It's Gone