Brent Corrigan's
Top 5 Gay Porn Scenes
Brent Corrigan's name is almost synonymous with gay porn by now, after more than 14 years in the business. Brent (also widely known by his real name Sean Paul Lockhart) has led a life full of turmoils and ups and downs and do-overs, but throughout all that, he has remained one of the best gay porn performers out there.
With so many years in the business, it's hard to pick just a few scenes as the best ones – plus, because Brent moved between a lot of studios and personal membership sites, it's hard to find some of his earlier work (not to mention some of his work for Cobra Video, which was done before he turned 18, and is obviously illegal.)
Therefore we looked mainly at his more recent work, mostly with Falcon and Naked Sword – and yes, his porn work even improved through the years, and you'll enjoy every minute of it.
All the scenes in this article are currently available via Naked Sword – the "Netflix of Gay Porn", which offers literally thousands of gay porn movies and scenes for one low monthly price.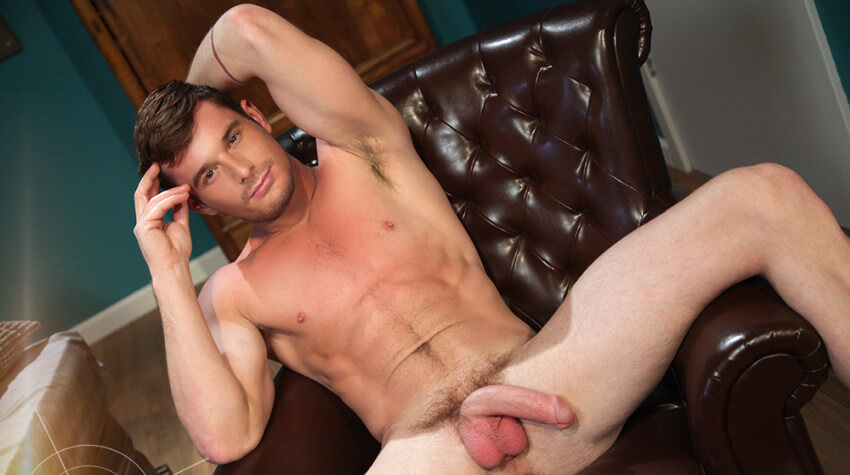 Models: Brent Corrigan, Erik Rhodes
The Velvet Mafia is worth a watch for its historic value (plus, the sex isn't bad at all) – it was Brent Corrigan's first scene for Falcon Studios, back in 2006, when he was still a 20-year-old twink.
Due to the legal battles involving Brent's old company (Cobra Video), he wasn't even called "Brent Corrigna" in the original release of this video – instead, he was given the silly name Fox Ryder.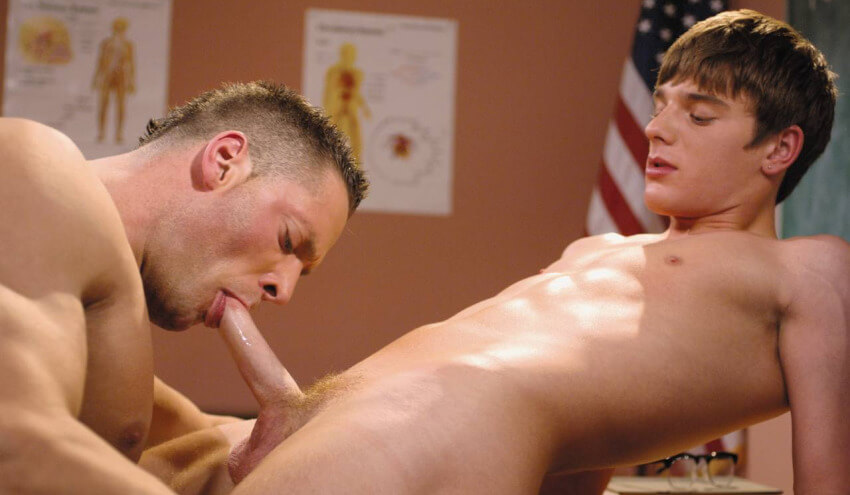 The scene also features the late Eric Rhodes, who was a big gay porn star at the time, and has an amusing over-the-top plot involving porn wars and… the gay mafia.
Brent, in a fishnet tank top, plays a cheeky gay porn star who starts working for a new studio. The sex scene is a gay porn scene inside a gay porn film… very meta! The sex is very intense – the size difference between the then-twinkish Brent and the huge, muscled Eric is almost comical, but it works.
Brent gets spanked on the "teacher's" table, then he gets his dick sucked, he gets rimmed, and eventually we get to the fucking, with Brent both bottoming AND topping.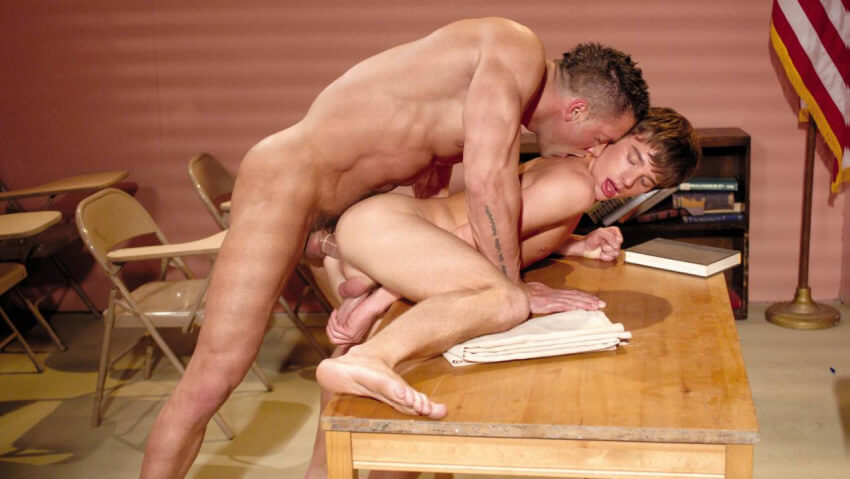 Brent, as is often the case with him, looks really eager – he's one of those porn stars that make it all look very real and very engaging, being all-in and excited about the sex. This is a must-watch for any Brent Corrigan fan.
Models: Brent Corrigan, Chris Harder
Sex that happens in Vegas… stays in Vegas? No it doesn't! This movie is a collection of scenes that take place in a Las Vegas club, and the second scene is the one featuring Brent.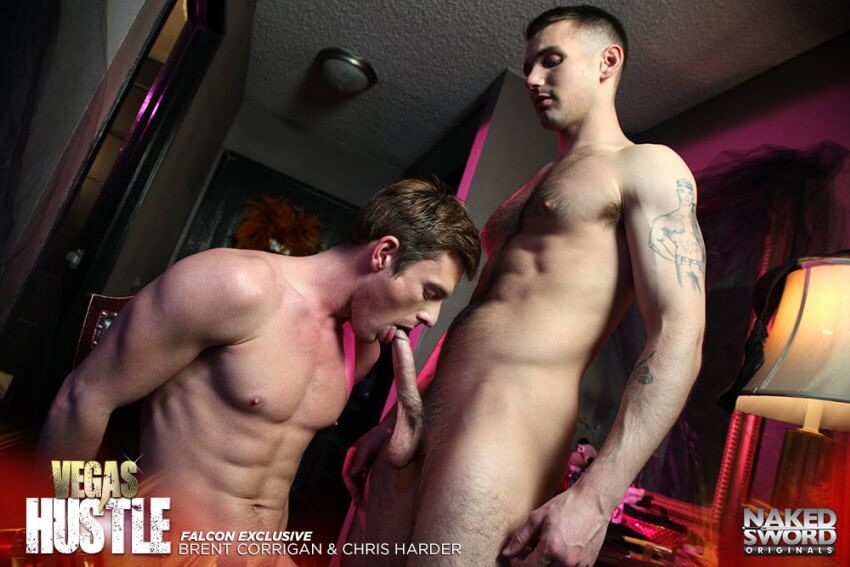 Chris Harder (in an awful hat) goes backstage and meets his "porn crush", the real-life gay porn superstar Brent Corrigan. Chris gives Brent a private, sexy lap dance – which quickly turns into sex.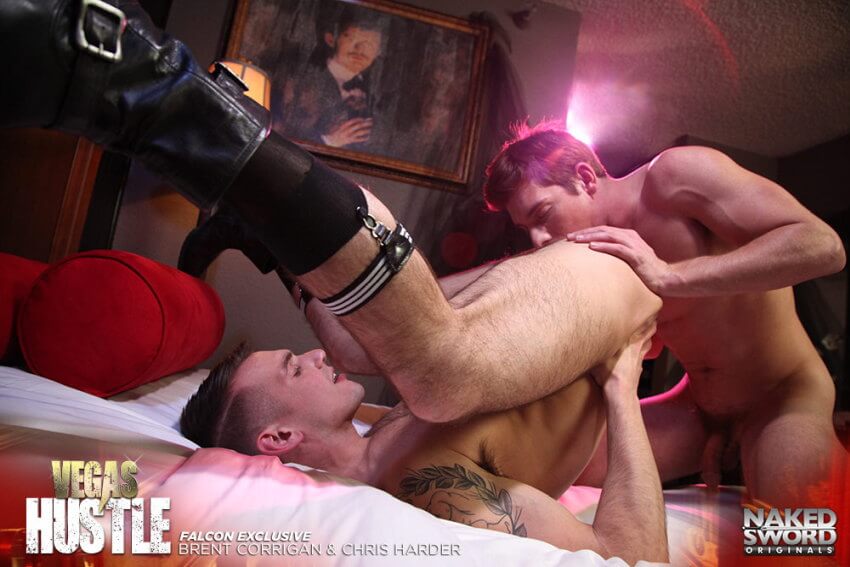 Chris starts servicing his porn idol's big dick, and Brent quickly returns the favor. After some rimming, Chris takes Brent's cock again, for some deep throat-fucking – it's always hot when a guy gags for your cock.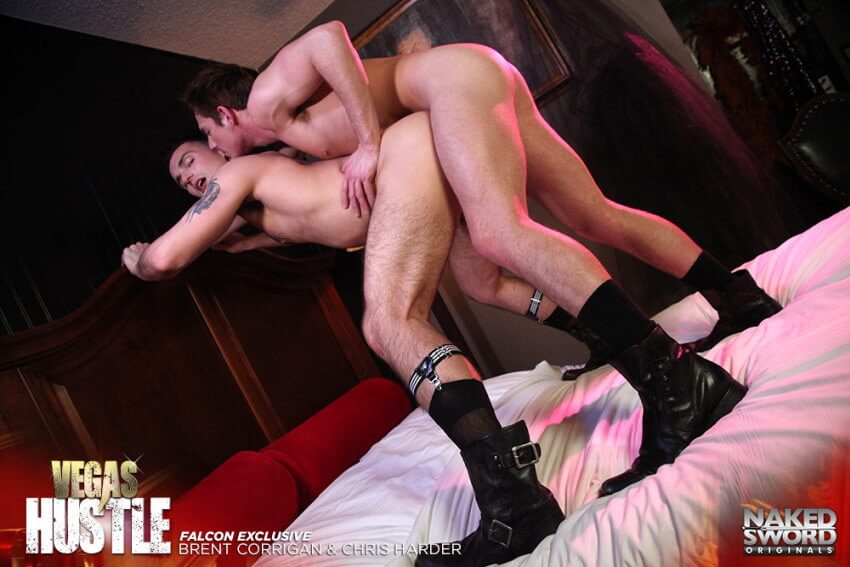 But Brent wants the "star treatment" – so he bends Chris around on his knees, and starts fucking him hard and fast. The fucking goes on for a while in different positions, and ends with a wonderful facial.
Models: Brent Corrigan, Kurtis Wolfe
Moving from Las Vegas to New Orleans, the 6th scene is the one featuring Brent, along with Kurtis Wolfe. It starts with the two holding hands while walking in the French Quarter – but they want more than that. The two are very muscular in this scene, and are therefore a very compatible match.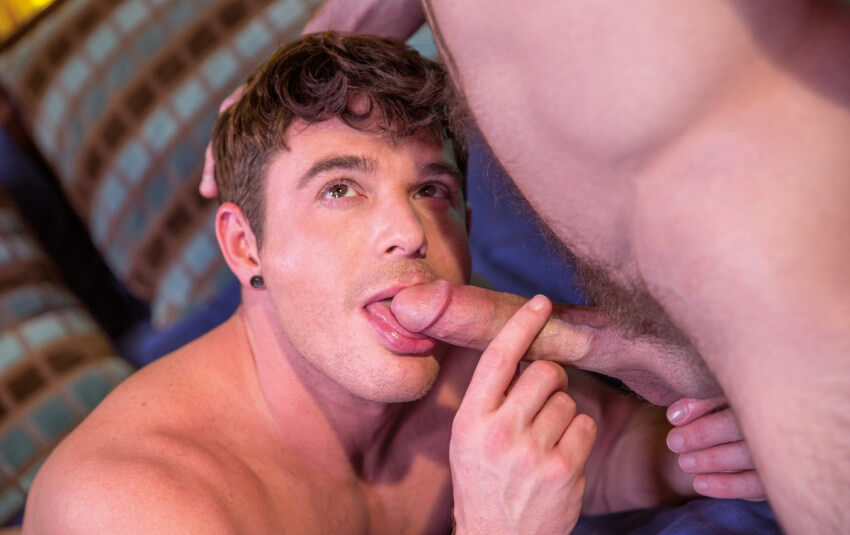 Brent and Kurtis end up in a hotel room, and immediately start making out. The clothes are quick to go, Brent is already bulging in his underwear, and Kurtis wastes no time taking Brent's cock in his mouth – and he manages to deep-throat it nicely.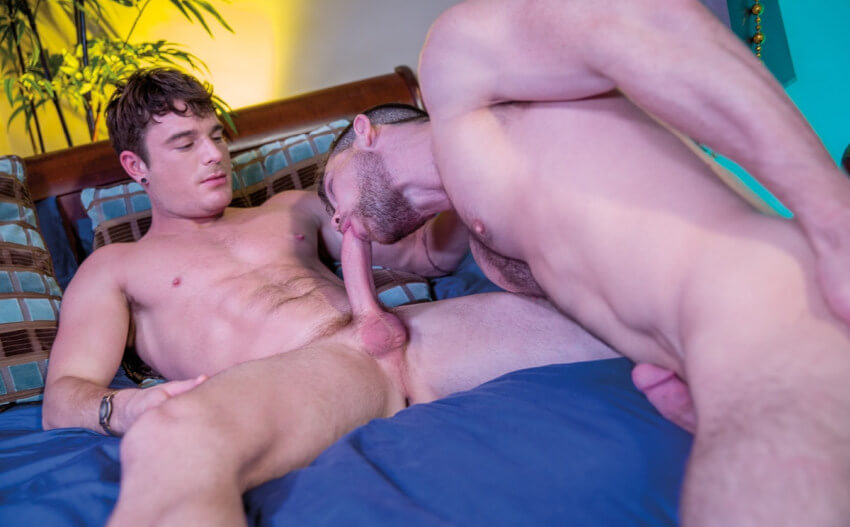 The blowjob is pretty long, but Kurtis is very passionate about it, and really worships Brent's cock throughout the scene. Next, Kurtis starts rimming Brent's ass, and then Brent gets to suck some dick too, with some intense face fucking. Brent also gets fingered – and ass-slapped – while he's still sucking.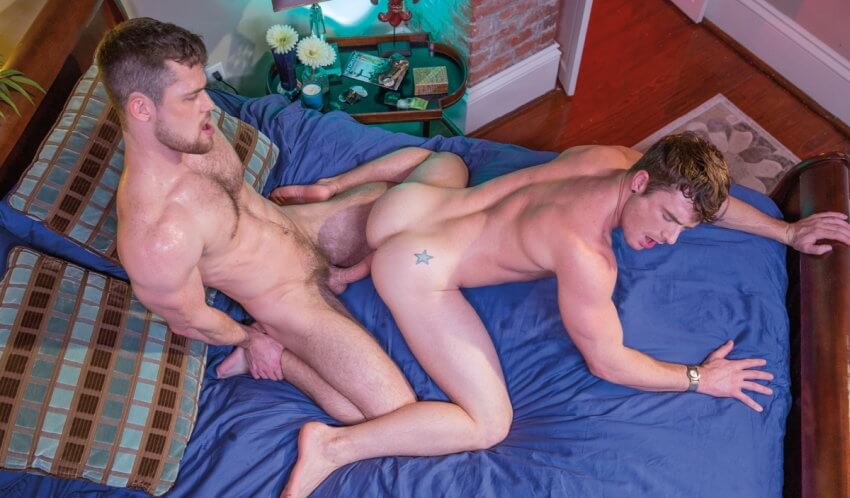 Eventually Brent gets fucked, and Kurtis is, again, very passionate about the whole thing, fucking his bottom hard and fast in multiple positions.
Models: Brent Corrigan, Calvin Banks, Dominic Pacifico, Dorian Ferro,
Jack Hunter, Sean Duran 
This movie, consisting of four scenes, features Brent from start to finish, each time paired with a different hottie (and sometimes more than one), with a total running time of more than two hours!
Brent does tremendous, super-sexy work in this film, so no wonder he also won the "GayVN Best Actor 2018" award for this film.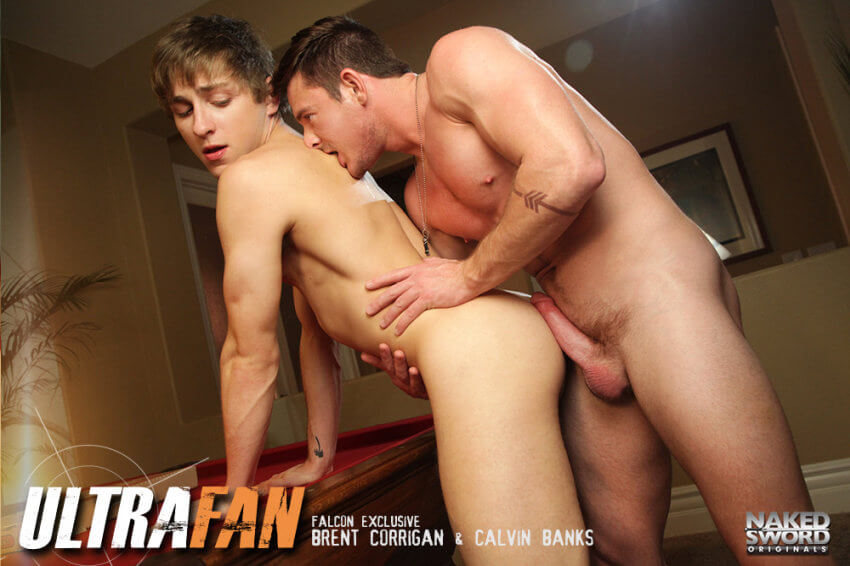 The plot tells the story of – you guessed it – gay porn star (and webcam star) Brent Corrigan. Movie Brent had retired from gay porn, until "people are going to start paying for their porn again" (hint hint!), and therefore only does solo cam shows. But then, an "ultra fan" starts trying to pull Brent back in (pun intended), and blackmails his favorite porn star into various sexual predicaments…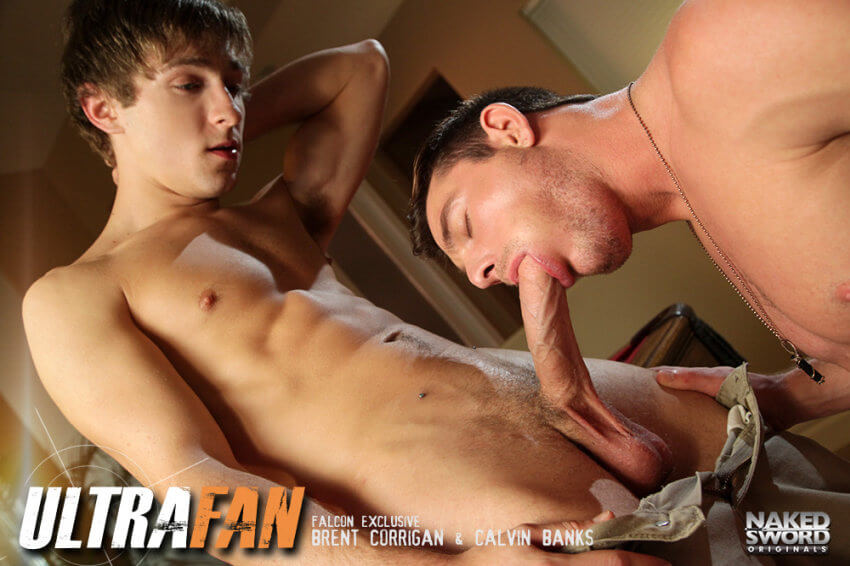 The first scene involves… a hot pizza delivery boy (a sexy cliche) played by Calvin Banks. Surprisingly, Brent starts sucking the pizza boy's dick, showing his impressive deep-throating skills.
Pizza-banks wants some dick too, so he does some sloppy, wet deep-throating of his own. Eventually, he gets fucked right on top of the pool table. Calvin finally cums while he's being fucked (always a hot moment), and ends up getting Brent's juice all over this twinkish face.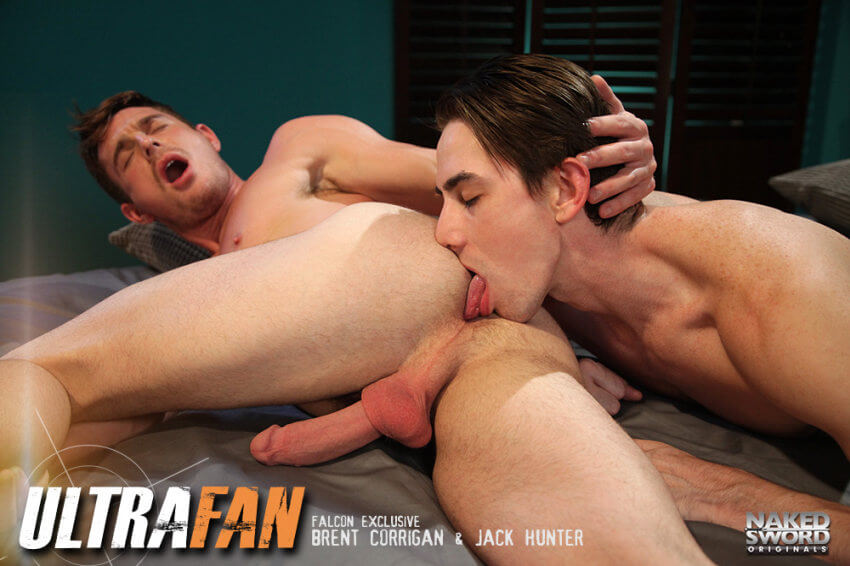 As the movie progresses, the scenes just keep getting hotter and hotter. There's some hot bondage between Jack Hunter and Sean Duran (which Brent jerks off to), a hot threeway scene between Brent, Dominic Pacifico and Dorian Ferro, and a big reveal at the end, when the Ultra Fan's true intentions are revealed.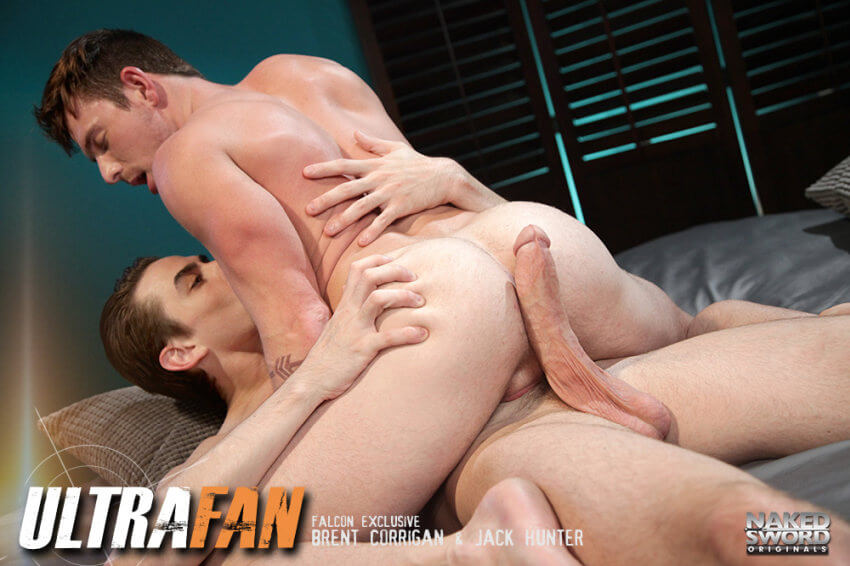 The final scene, with Brent and Jack Hunter, doesn't disappoint either, with some rough, no-holds-barred flip-fucking, and a beautiful cumshot on Brent's bubbly ass.
Models: Blake Mitchell, Max Carter, Kyle Ross, Evan Parker, Tyler Hill, Joey Mills
It's hard to innovate in porn – and Point Of View scenes are nothing new – but these two scenes really takes it a step further, and are very refreshing for gay porn veterans, and for fans of Brent.
The scenes follow the life of – yep, gay porn star Brent Corrigan – as seen "through the eyes" of his real-life lover, JJ Knight – or, if you wish – through YOUR eyes. The second scene also features Brent getting fucked barebacked, for the first time (in a movie) for years.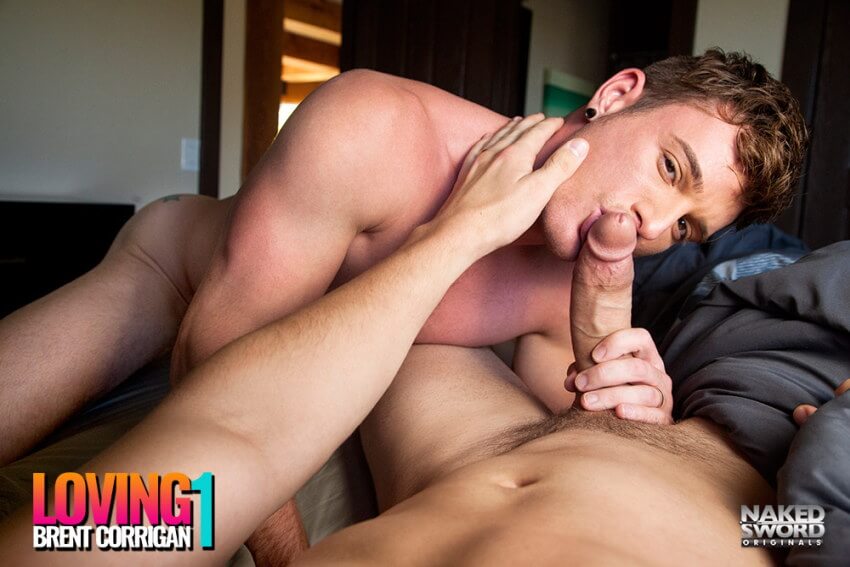 The first scene starts with JJ/you waking up in bed next to Brent, who then turns around to look at him/you, saying "Good Morning babe!". Brent proceeds to sucking his lover's cock for a bit (best way to start the morning), then he takes a… "fun" shower.
Following breakfast, the two head to the beach for some skinny dipping, and then, outside on the rocks, they start having sex again. There's sucking and deep-throating (even Brent, with his skills, struggles a bit with JJ's big cock), there's hole-fingering, and a very wet facial cumshot, with Brent swallowing most of it.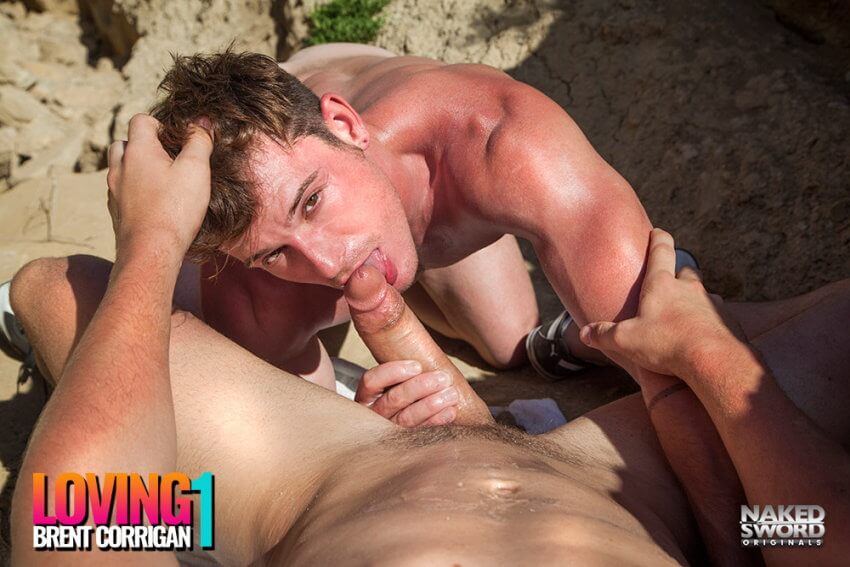 There's no fucking in the first scene – that comes in Loving Brent Corrigan Part 2 – but it's worth the wait.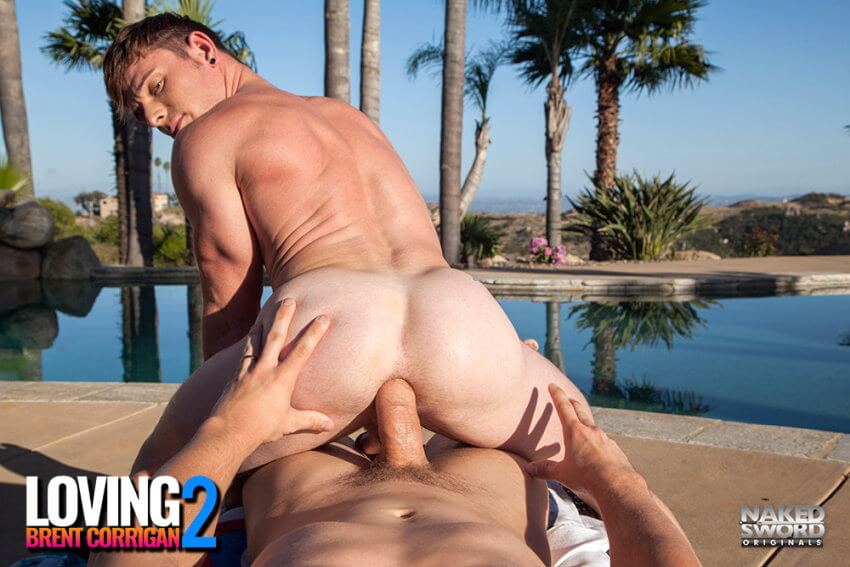 The second scene starts with the two in the gym, doing some sweaty sets. But again, Brent just can't wait – and starts sucking his boyfriend's dick. But wait – no fucking yet! Because then, they go to the pool…
After some more oral sex and fingering, Brent finally climbs on top of JJ's big dick – bareback. The fucking is very hot, in multiple positions, and there's even some ass-to-mouth. At the end, there's a cumshot you've been waiting years to see again – Brent gets creampied.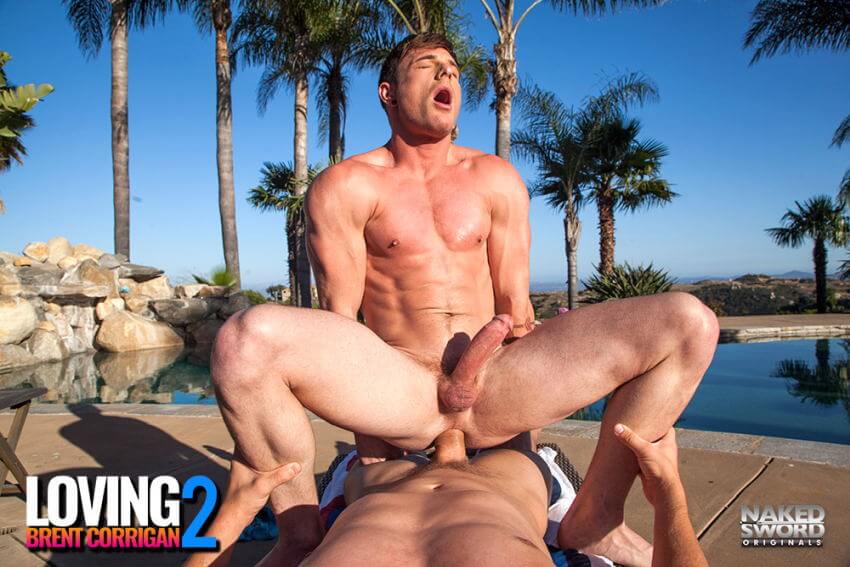 And remember – it's all shot from "your" point of view – which takes the sexiness to a whole new level. You can watch Part 1 via this link, and Part 2 via this link. 
Want More Brent Corrigan Scenes?