Blake Mitchell's
Top 6 Gay Porn Scenes
Blake Mitchell is one of the top gay porn stars working today, and for good reason – he has the perfect combination of twinkish good looks, a perfect, muscular body, a subtle Southern accent, and… one the biggest uncut cocks in the business.
Blake (who is bisexual, but only films gay scenes – at least so far), is originally from Kentucky. He started out his porn career as a Chaturbate cam model, and quickly became a cam star, with his road to gay porn stardom set.
Blake joined Helix Studios as an exclusive model, doing more than 50 scenes with them. In 2019 he left Helix, and eventually jumped ship to CockyBoys – see Blake's first scene with them here.
He can also still be seen occasionally on Flirt4Free, doing cam shows.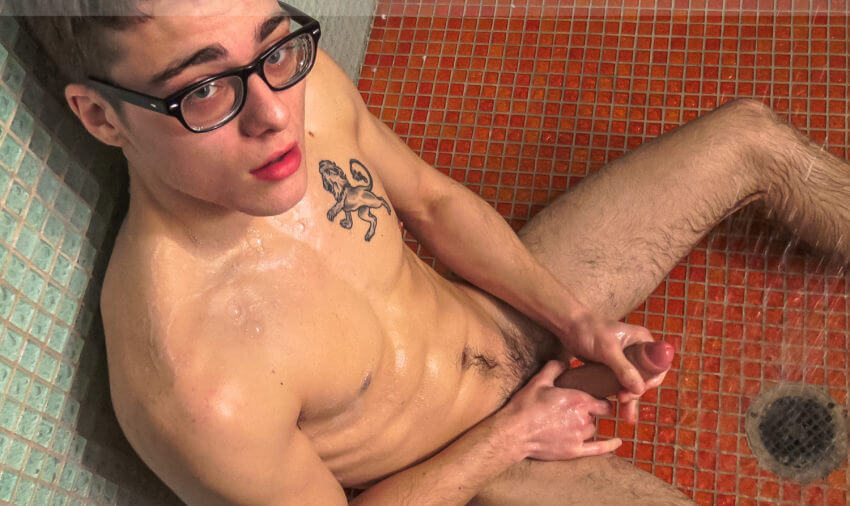 With so many sexy scenes and hot partners, it's really hard (pun intended) to choose Blake's top scenes. We did our best, so here are our favorite gay porn scenes featuring Blake Mitchell.
Models: Blake Mitchell, Sean Ford, Joey Mills, Corbin Colby, Landon Vega
This one's a hard one (pun intended, again!). You either love it or hate it, and some have even called it art, as it was directed by queer filmmaker Matt Lambert – who, in an interview, said "The sex part of it was just a supplement."
But at the end of the day, art is nice, but we watch porn because we want to see hot guys having sex. Does "Flower" deliver? It does – but only if you're willing to experience something a bit different.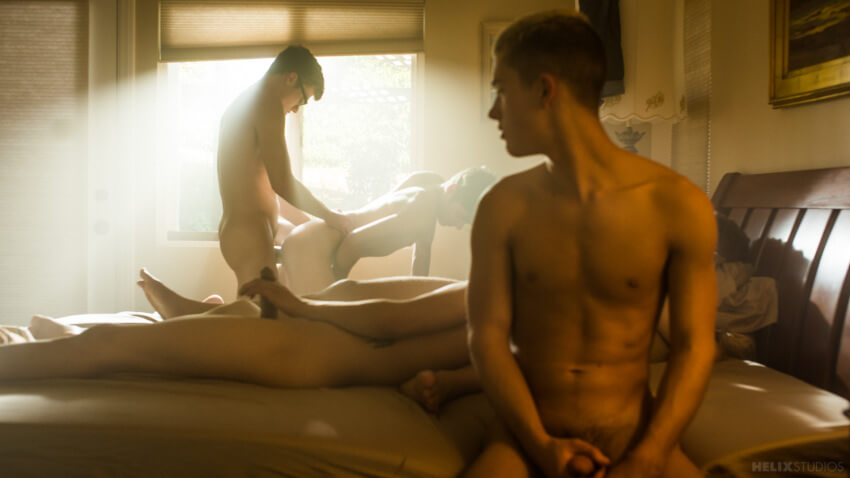 And that's a plus in our book – gay porn is often very one dimensional, with set pieces that never change – they kiss, they have oral sex, they fuck, they cum, The End. So the big plus about Flower, is that it mixes up the formula a bit – there's even a lip-syncing song at the end, with Blake and the boys "singing" with their cocks flapping about!
Other than the sex, you see the boys playing around, talking to each other, and moving from one position to another. Someone will suddenly cum, then you'll see another fuck – and it catches you off guard.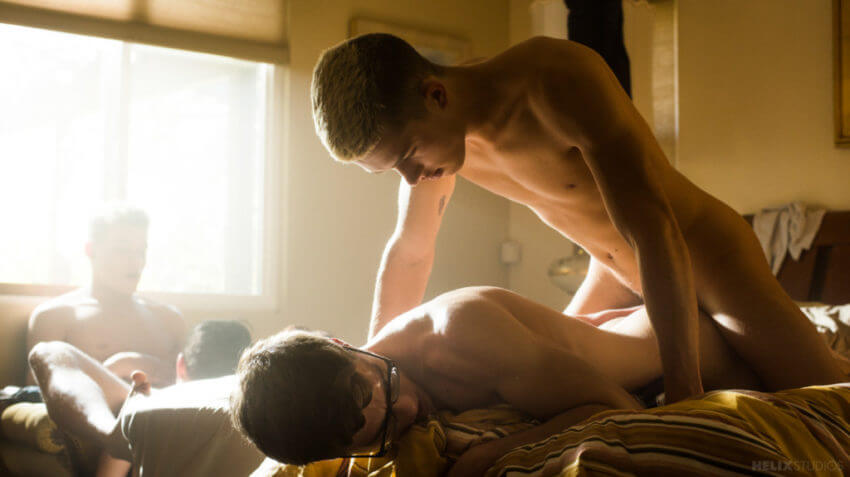 Blake Mitchell brings his A game, and even though he's usually a top, he even bottoms in this scene – for his pal Sean Ford – and the two, as usual, have excellent chemistry. The rest of the boys also do a great job, and it all feels very natural – which is not something you normally feel in a porn scene.
Models: Blake Mitchell, Sean Ford
This scene needs to be seen for its historical value alone (AND it's hotness, of course) – it was Sean Ford's first-ever gay porn scene, and his first sexual encounter with Blake Mitchell. (Months later, it was reported that off-camera sex between the two of them was one of the causes behind Blake and Casey's breakup.)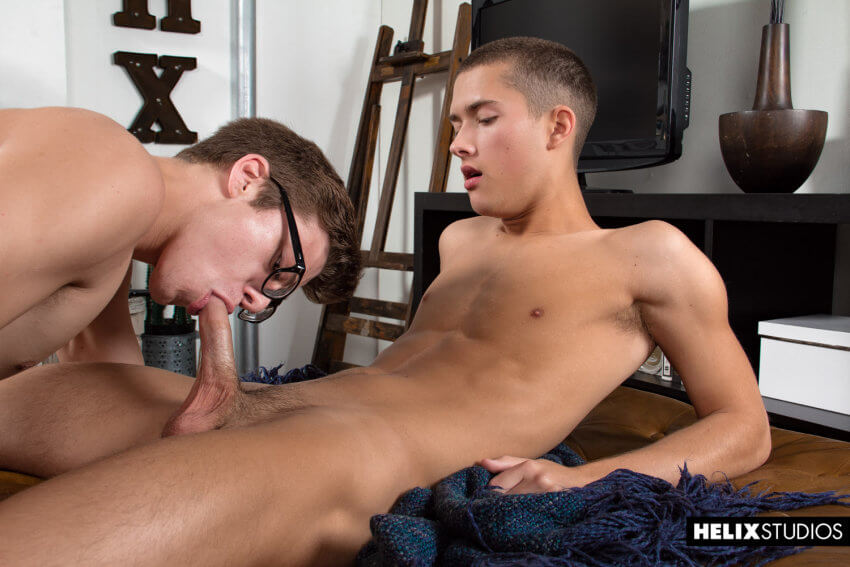 But from watching the actual scene, you'll never guess it was Sean's first time. It starts out with Blake and Sean meeting on the street, then they quickly move indoors for a hot makeout session. 
They then rapidly lose their clothes, which is good – because they have two of the greatest bodies in the business (Blake actually won an AVN award for his body this year…). From there we move on to the sex, which is – we must admit – a bit vanilla.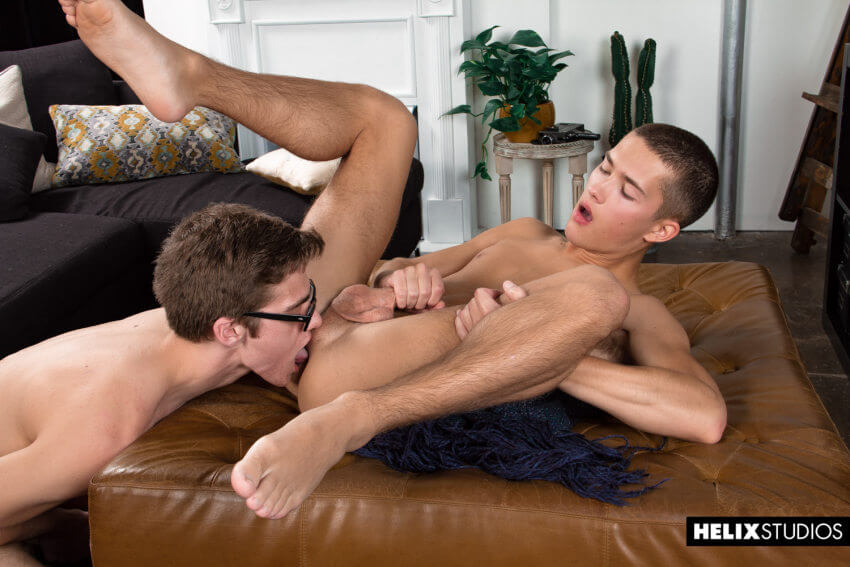 But with the two men being so beautiful, even "plain" sucking and fucking turns the heat up to 11. After some mandatory rimming from Blake, he fucks Sean in a variety of positions – with the hottest one being the doggie style near the end, with Blake pulling on Sean's arms.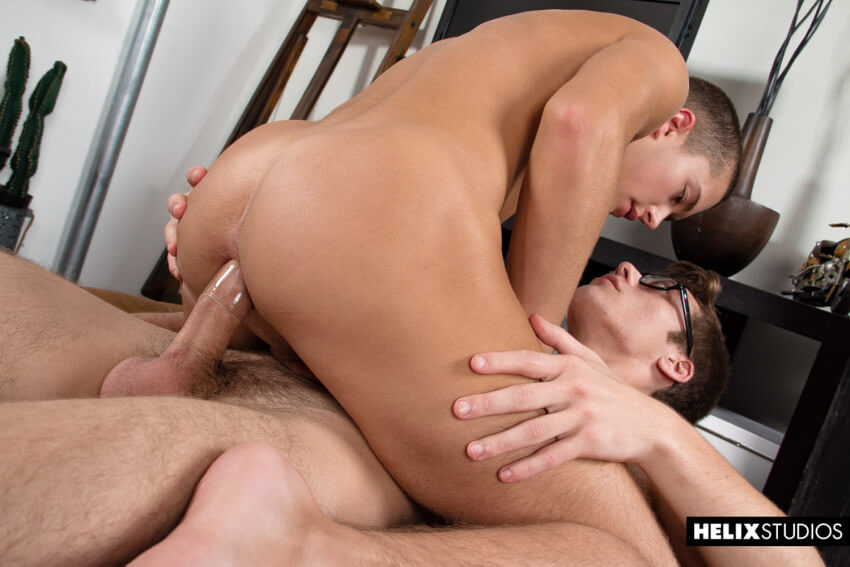 And the biggest selling point? Sean gets a facial from Blake on his handsome face…
Models: Blake Mitchell, Tyler Hill, Noah White
This scene gets extra points from us because of its premise and first few minutes. It's every gay geek boy's dream – Blake Mitchell and Tyler Hill are playing videos games, while Noah White wants to play a different game – and starts blowing them WHILE they're still playing.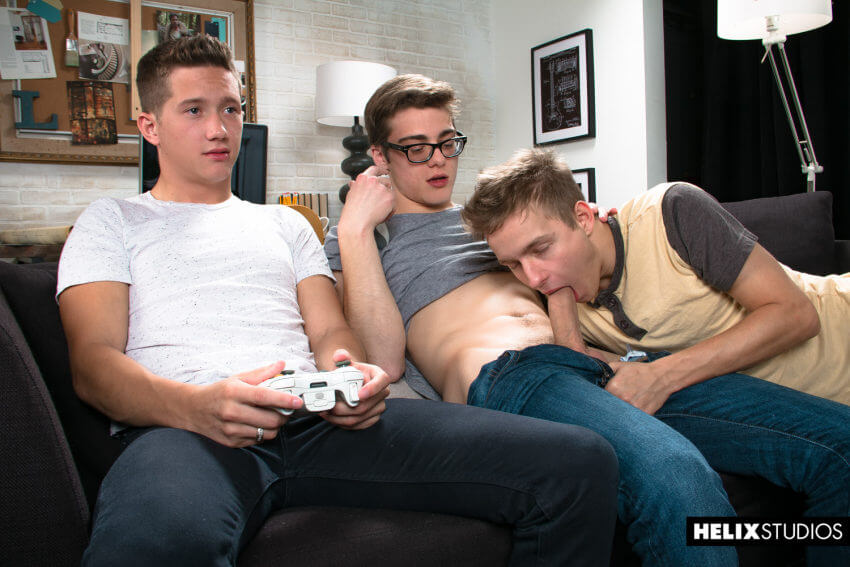 Blake is really cute as he's trying to keep on with the game while his dick is being handled, and Tyler tries to maintain a "serious" posture – but that doesn't last long, and he gets naked as well.
From there we move on to a sexy threesome. Each of the boys gets to suck dick (Blake even kneels down and handles both Tyler And Noah's dicks at the same time), and the they all look really into each other.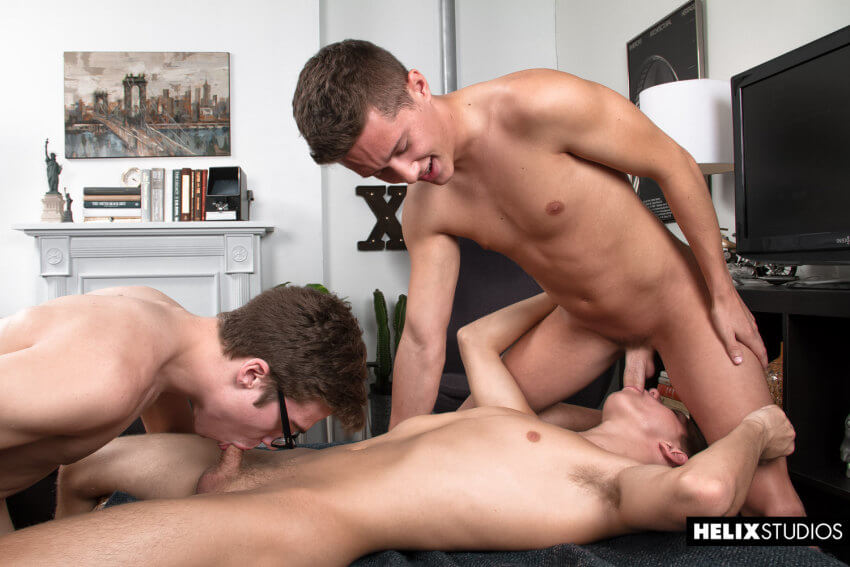 After some rimming we move to the fucking – with a marvelous bit where Noah gets sandwiched – sitting on Blake's big dick WHILE fucking Tyler who's sitting on top of him. Next, they switch it up and Tyler gets to be in the middle, fucking Noah while being drilled by Blake.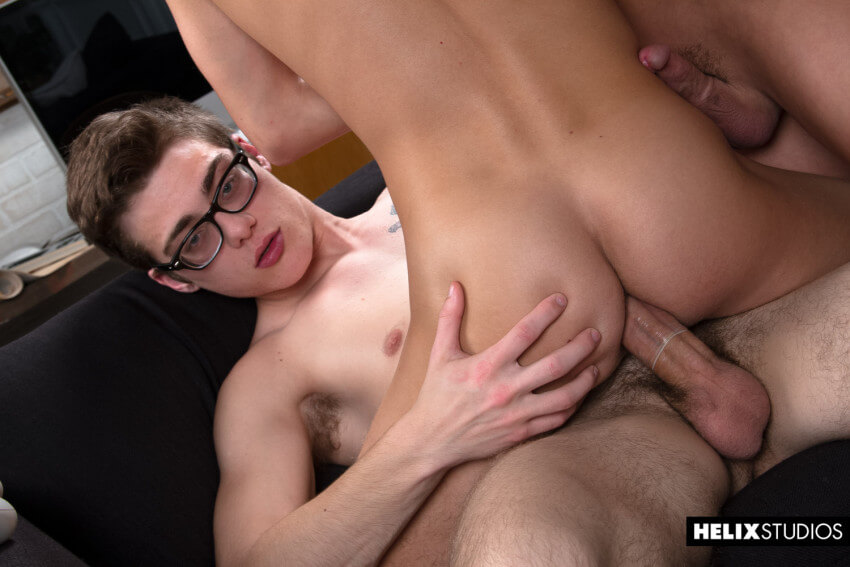 Finally, Noah cums WHILE he's being fucked, which is always hot, and Tyler and Blake both cum on their bottom's ass and back. Alas, there are no facials.
Models: Blake Mitchell, Casey Tanner
Raw Exposure isn't the only scene Blake Mitchell filmed with his then-boyfriend Casey Tanner – but it's certainly the most intimate one, and it shows.
It's just the two of them this time, with no extra hands (or cocks), and the scene starts with Blake and Casey posing for an erotic photoshoot. It's all a bit too "artsy" at this point, but it's fun to see the intimacy and affection between them.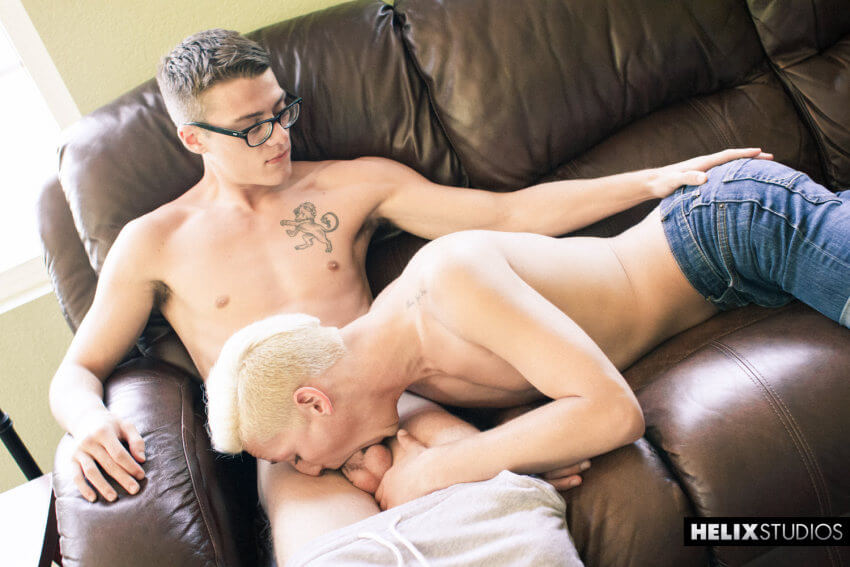 Pretty quickly, however, we move to the sex part. It starts with a super-hot blowjob session on the couch, and with Casey having so much real-life experience blowing Blake, it really looks like he knows what he's doing.
It also means Blake's enormous dick doesn't scare Casey – and he takes it all in like a real champ. If you like it a bit rough around the edges (and who wouldn't with someone like Blake), you'll get your fix when Blake occasionally shoves his cock forcefully into Casey's mouth.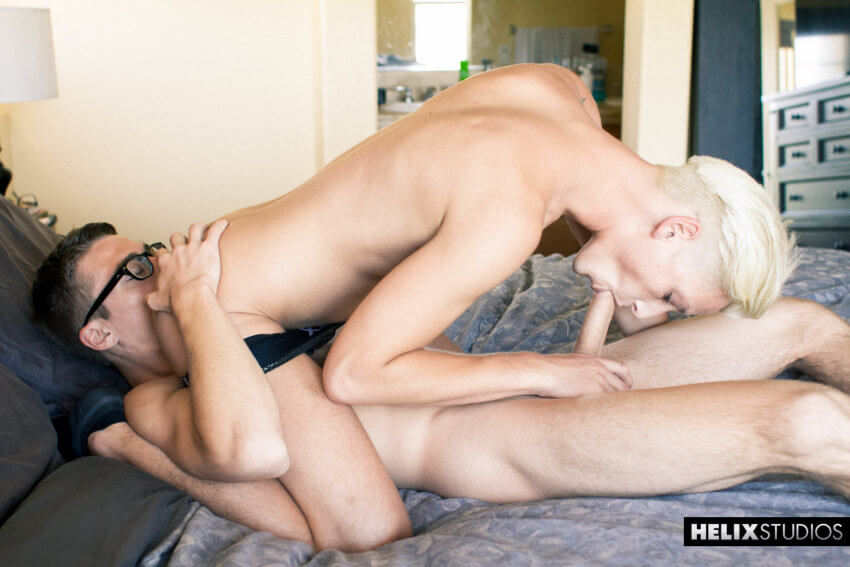 Following the oral sex scene, the boys move "upstairs" to the bedroom, where the action gets even more intense. There's a hot 69 session, there's a rimming session (Blake really seems to love rimming), and of course – a lot of bareback fucking.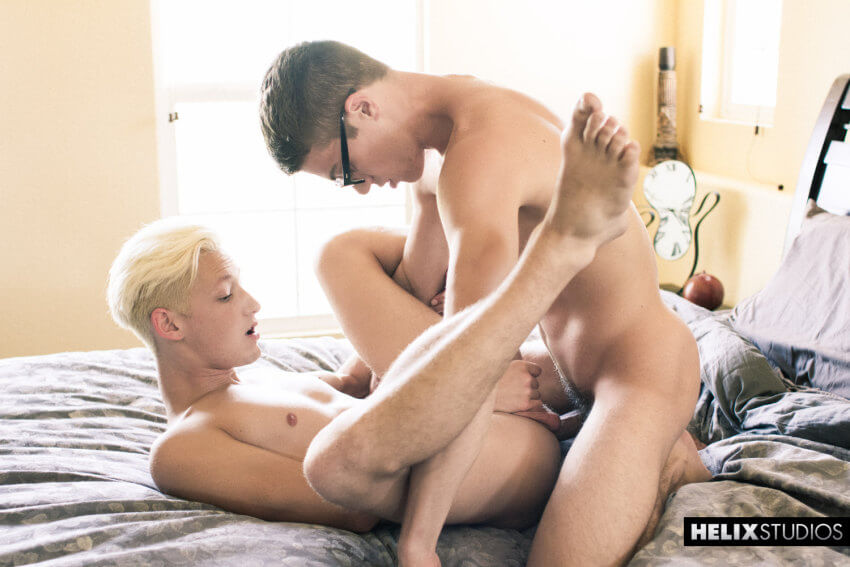 The HOTTEST part for me, though, comes after Casey cums. You see, Blake never takes facials or swallows cum (at least on camera) – yet we get to see Casey slide his still cum-covered dick into Blake's mouth, for an extremely hot throat-fucking session, making Blake gag until he cums himself – on Casey's face.
It's a scene you really have to see – and you can do that right here. 
Models: Blake Mitchell, Max Carter, Kyle Ross, Evan Parker, Tyler Hill, Joey Mills
"Lifeguards: Summer Session" was one of Helix Studios' best projects in years – so no wonder it keeps winning industry awards. It brought together Helix' A-List group of performers, and paired them together in all sorts of combinations.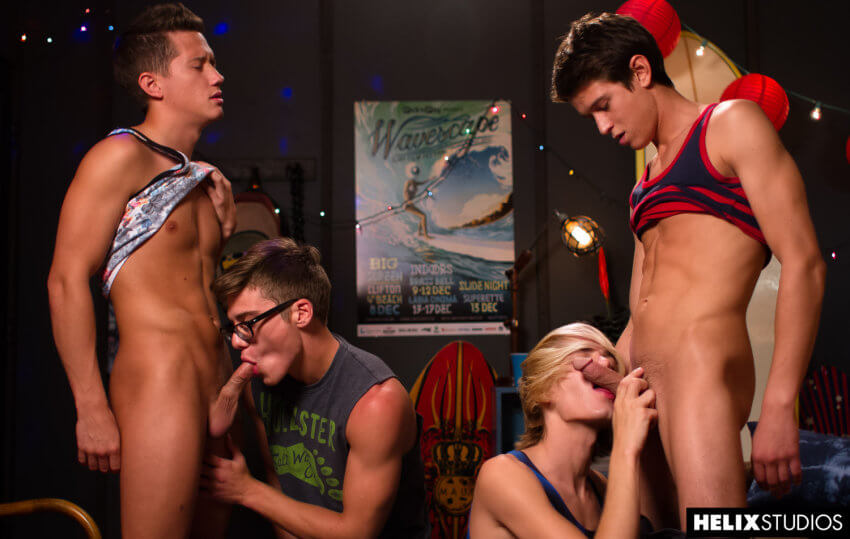 "Party Wave" is the culmination of that project, a wild and super-sexy orgy scene, with the guys pairing off in almost every possible combination – no dick goes un-serviced! Of course orgy scenes have their pluses and minuses – there's A LOT of action, and a lot of hot boys, but it's never very intimate because of all the "noise." Still, for what it is – it's extremely hot.
Blake Mitchell is his usual sexy self, taking command of the different boy in front of him in each part of the scene.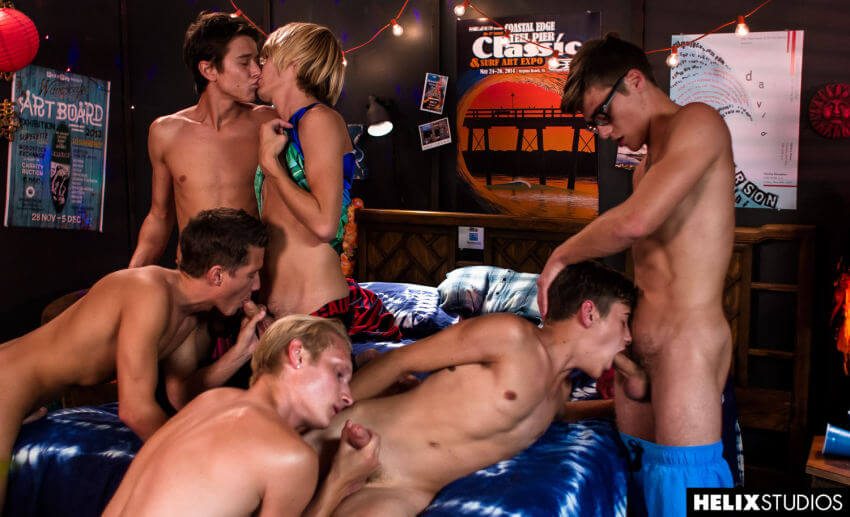 The other guys are just as good – Joey Mills demonstrates his famous cocksucking skills by deep throating Blake's huge cock, Max Carter and Kyle Ross (who are a couple in real life) know exactly how to push each other's buttons, and Evan Parker and Tyler Hill – another real life couple – look better than ever together. And of course – they all mix it up with each other.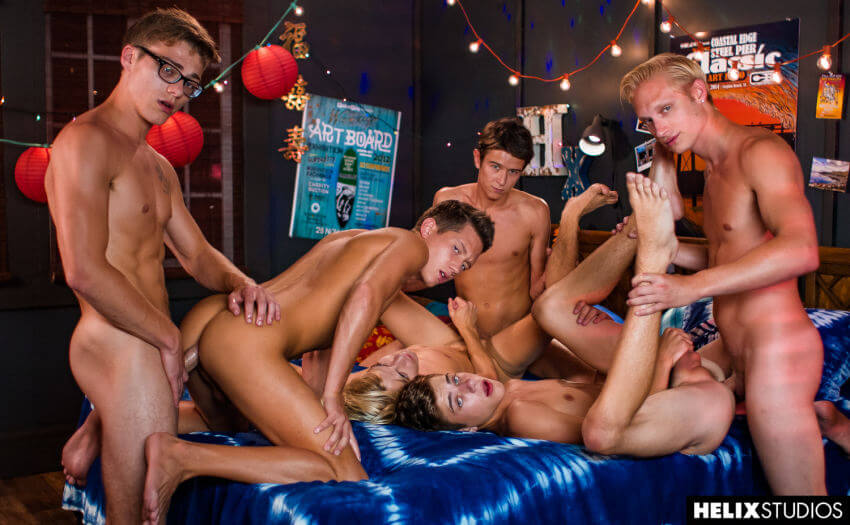 The scene is so intense, moving from one climax to another – Joey Mills getting Double Penetrated, bareback, by Kyle and Max. Tyler Hill getting every hole simultaneously filled by Blake and Evan. The action never stops…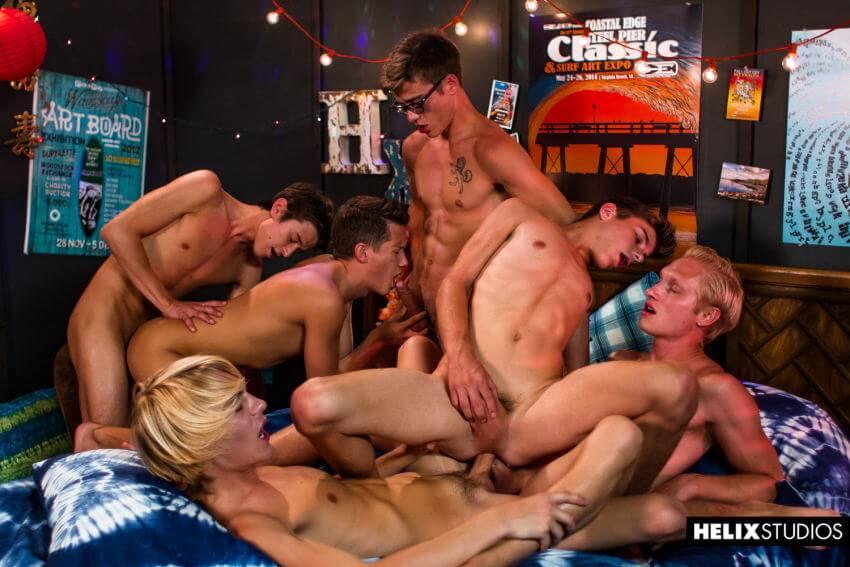 And the ending is explosive – Joey Mills taking three facials at the same time, while being fucked, is really something you don't want to miss – and you can watch it right here.
Models: Blake Mitchell, Kyle Ross, Corbin Colby
The "problem" with many twink studios, and Helix are just as guilty of that sometimes, is that the sex become a little too vanilla. And while it's true that men who look for twink porn scenes aren't looking (at that moment at least) for hardcore BDSM or some wild fetish in their scene – it's a real blessing to sometimes move away a bit from the plain old formula of two young men "making gentle love."
Well, that long introduction brings us to the Best Blake Mitchell scene in our book – "Two Good To Be True" – which holds the exact right combination of handsome boys adding some – not too much – kink to their sex scene.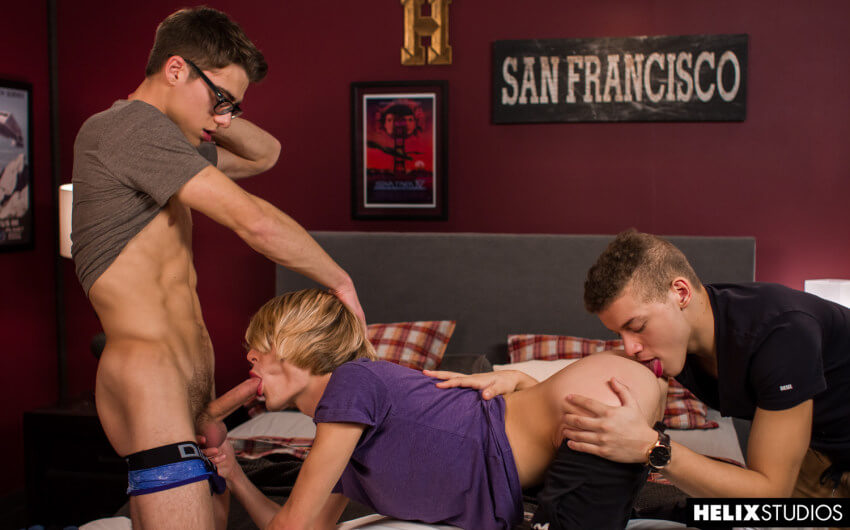 The scene stars an interesting trio – Kyle Ross, which is one of Helix Studio's longest running performers, along with big-dicked Corbin Colby, and – of course – even bigger-dicked Blake Mitchell.
Things start with Blake and Corbin in a coffee shop, where they happen to meet "gay porn star Kyle Ross". After a brief chat, they end up in – surprise – the bedroom, and it's nonstop action from there.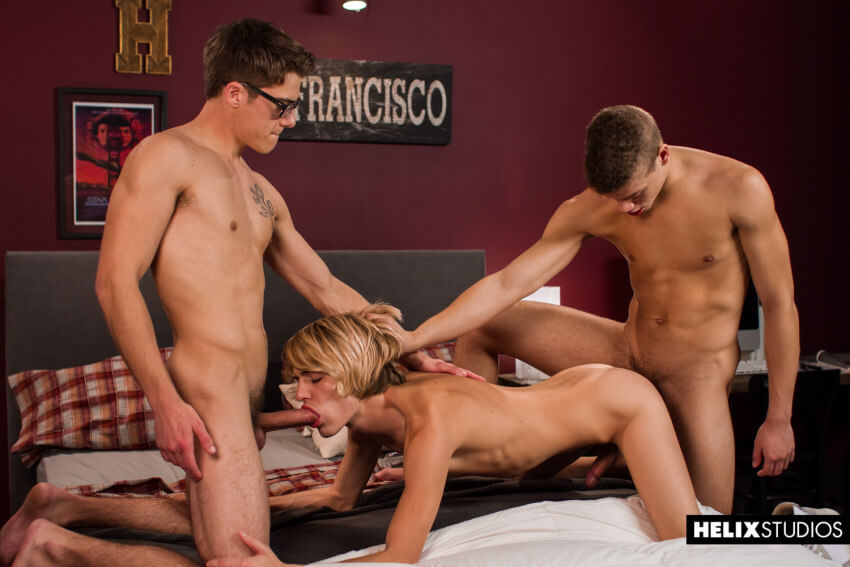 Kyle is in the middle the whole time, with these two muscular hunks using him in every shape, form and hole. There's throat fucking (and even gagging, which isn't common in Helix' scenes), there's some ass slapping, and even ass-to-mouth, with the guys flipping Kyle around, moving their dicks from his mouth to his ass and vice versa.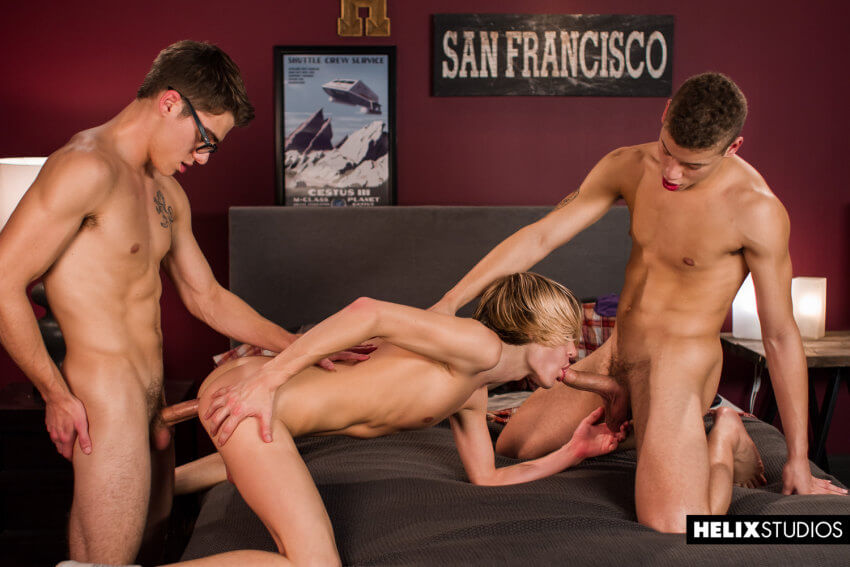 The whole vibe is very intense, even rough – Blake and Corbin get sweaty pretty quickly, and it looks real sexy with their muscular bodies. Kyle on the other hand is the perfect bottom-boy here, serving Blake and Corbin's every need.
Blake is as rough and dominating as he knows how to be, using his body in the best possible way, and Corbin doesn't disappoint either. The bit where he's on top of Kyle, fucking him, while sucking Blake's cock is super hot, and there's even some Double Penetration.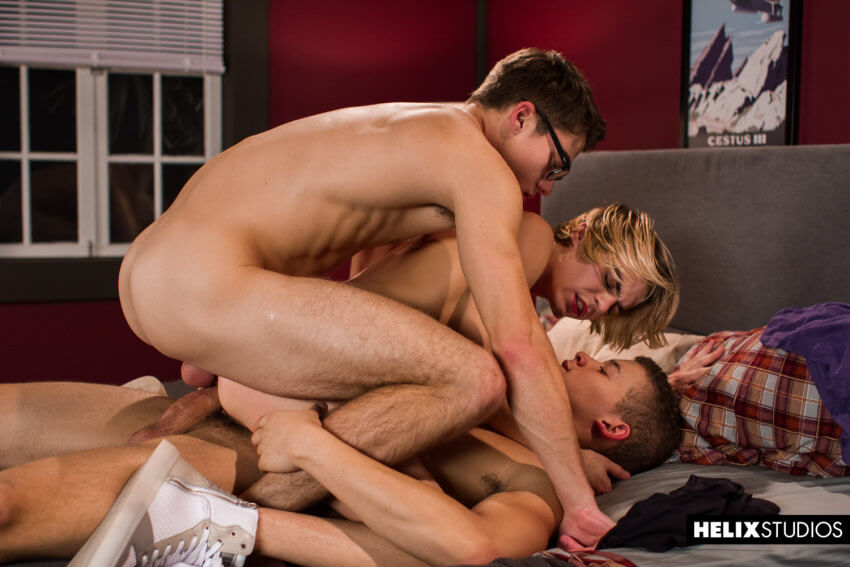 The ending is just as explosive, with Blake cumming all over Kyle's face and mouth – and Corbin dives in to have a taste as well, because – well – who wouldn't?
Want More Blake Mitchell Scenes?