The Top 7
Gay Porn Parodies
Porn parodies have been with us pretty much forever – and gay porn parodies are no exception – it's like the real-life version (well, XXX-life version) of those naughty Slash Fiction stories – pairing your favorite heroes and stars and having them… fuck.
In recent years, though, production values have gone up considerably on some of the gay porn parodies, with Men.com leading the pack. They invest in costumes, and set-pieces, and sometimes there's even some – gulp – plot. 
With so many great and super-sexy gay porn parodies, it was hard (pun intended) to choose the best – but here they are – The Best Gay Porn Parodies.
Models: Johnny Rapid,  Pierre Fitch
The Flash is a pretty hot character even out of porn – on TV, The Flash, also known as Barry Allen, is portrayed by the twinky Grant Gustin. And in DC's Cinematic Universe, he's played by the bisexually hot Ezra Miller.
In the gay porn parody version, The Fastest Man Alive is portrayed by none other than Johnny Rapid – though don't worry, he's NOT the fastest man alive when it comes to shooting his load. He does, however, get to wear the cool-red tight-in-all-the-right-places Flash suit.
The whole series is hot, but we chose Part 2 in particular, because it pairs Rapid with a true gay porn superstar – Pierre Fitch, who is surprisingly the bottom in here.
The scene starts with The Flash taking part in a big fight, and then he has to get checked out by "Raymond", his friend (aka Pierre). "Only a friend?"… and you know where that leads to.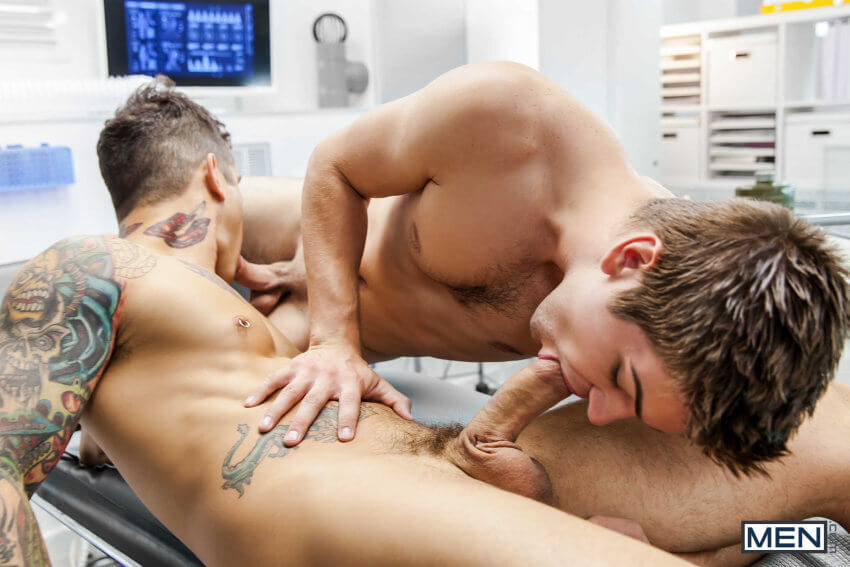 The sucking is great (Pierre has always had impressive deep-throating skills), there's some hot 69 action on the examination bed, and things really get into gear when the fucking starts, though the whole scene is a bit low-key.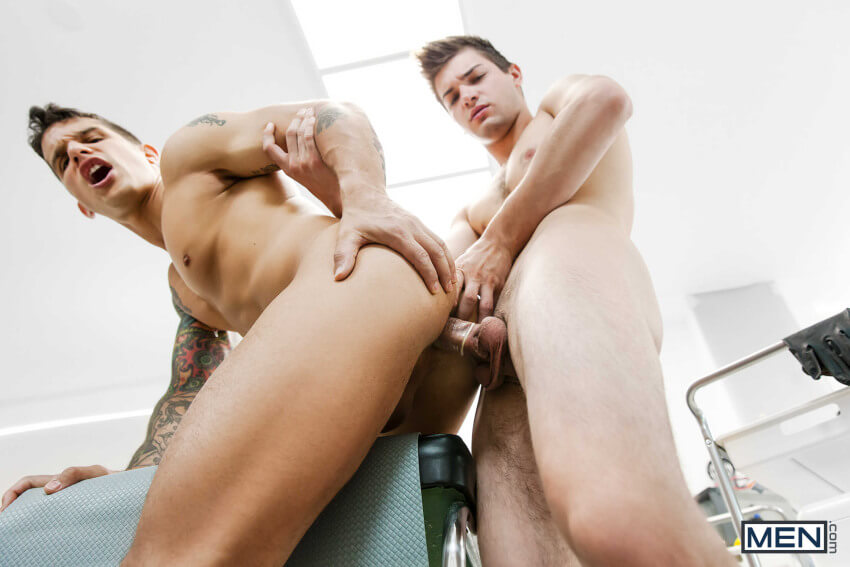 And Johnny keeps chatting away the whole scene – some people find that distracting, but others LOVE hearing some chit-chat during sex, as it makes it all feel a bit more natural.
If you want to start with Part 1 – you can find it here.
Models: Abraham Al Malek, Toby Dutch
While most of the other scenes in the list are based on super-heroes, this one's a bit different, taking us to Westeros and the world of Games of Thrones.
And while the TV version of GoT is choke-full of guys we would love to see fucking (Kit Harington being just one of them!), the Dothraki certainly check a lot of fantasy marks – so that's what you'll get on Part 1 of Gay of Thrones.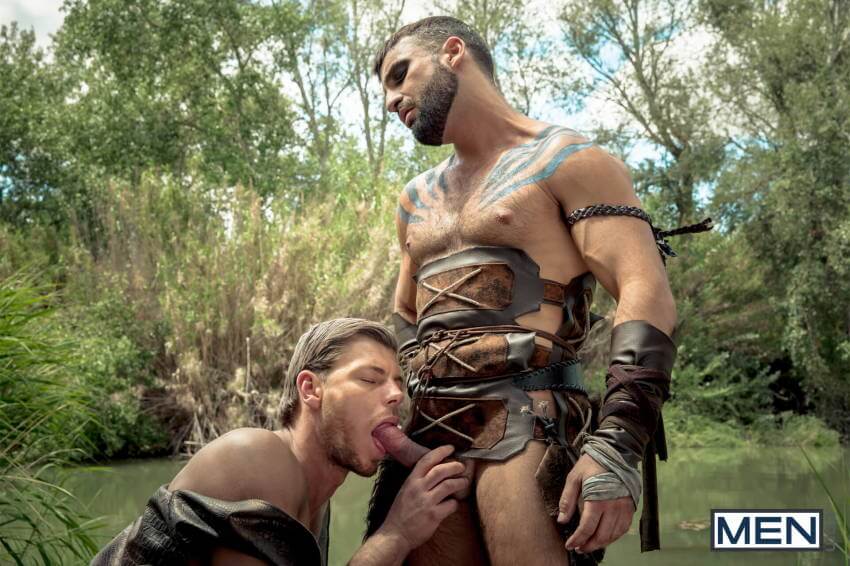 Here, porn star Abraham Al Malek plays Khal Drogo, a leader of not-many-words, who gets to fuck Toby Dutch who portrays… a slave? A fellow Dothraki? Either way, he's very fuckable.
The scene takes place outdoors, which is always a nice touch, and as expected it's rough, hard and sweaty. There's a lot of hot face fucking, the big (literally) Khal Drogo gets to suck some dick as well, and then he starts the fucking – without even taking his traditional clothes off. Thankfully, they have an opening for his big cock.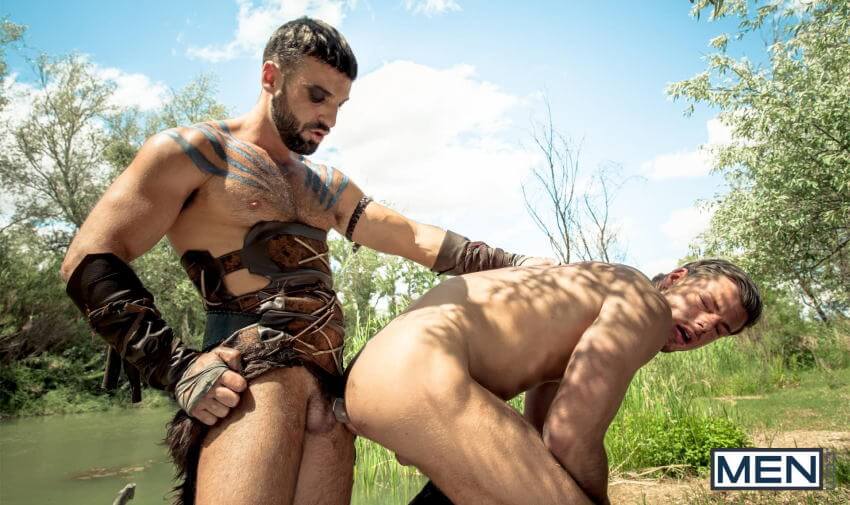 Oh, and they even perform some weird tribal ceremony with the slave's cum at the end… now there's a tribe we would all love to join.
Models: Diego Sans, Tobias
In the 2016 big-screen version of Tarzan, they filmed a scene where Alexander Skarsgård was kissed by a man. Unfortunatley, they edited it out, because they feared audiences would get "perplexed." So, forget Hollywood – we get to see Tarzan having REAL gay sex!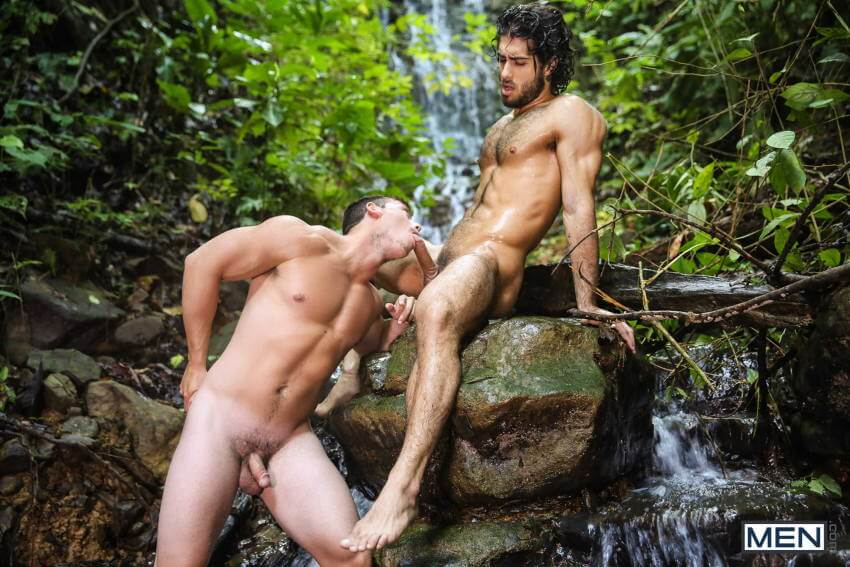 In this version (and we picked Part 2 because it's where we get to see the actual Tarzan, as played by Diego Sans), we get to see scenes that were filmed on location is Costa Rica, and you'll even get to hear the famous Tarzan scream.
But most importantly, there's some really hot sex. We start the scene with poor westerner Tobias stranded in the jungle, all tied up with vines – and there's even a real snake!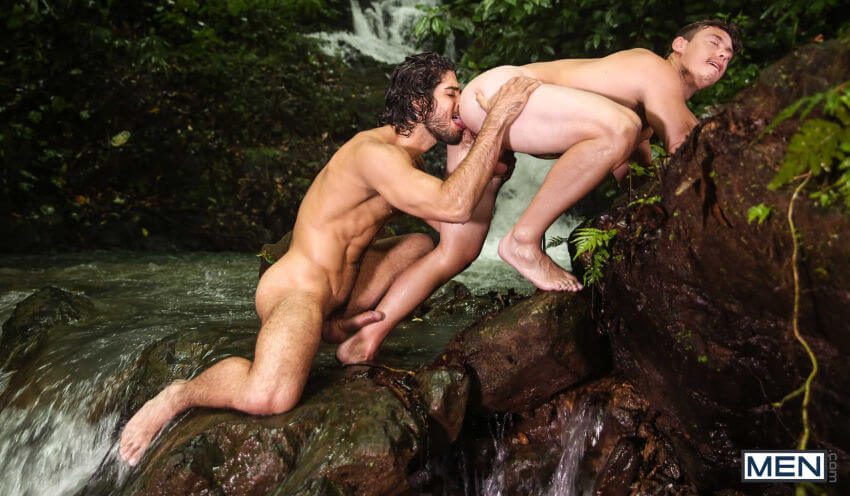 But when Tarzan comes along, he has some plans for Tobias, plans that involve sucking and fucking, as the two teach each other the ways of the jungle, and of gay porn. The two have incredible bodies which look amazing against the backdrop of nature.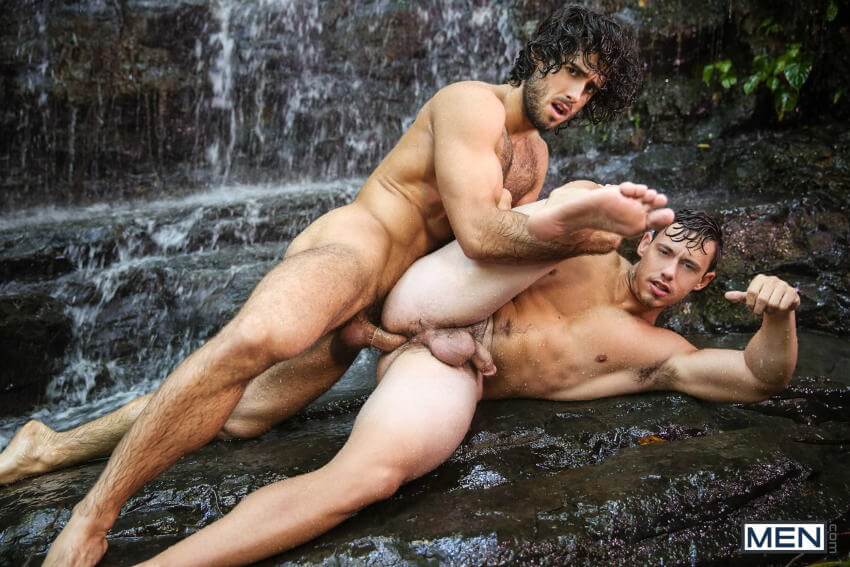 There's good oral sex and some deep-throating, rimming, several fucking positions, and a hot facial at the end.
Models: Diego Sans, Johnny Rapid
What do you get when you put a bunch of men together on a ship, all alone in the middle of the ocean? Hot gay sex, is what you get.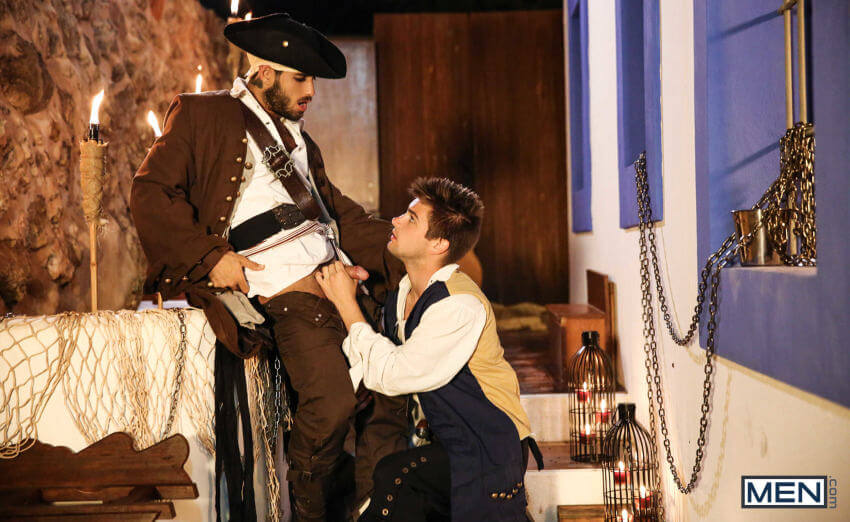 In the first part of this cheeky and sexy Pirates Of The Caribbean gay porn spoof, we get to see Diego Sans and Johnny Rapid do what pirates do best – fuck.  But the production values are impressive, with the men fighting aboard a real ship. There's some sword fighting (with real swords, not just dicks), and hilarious acting from Diego as the ship's captain.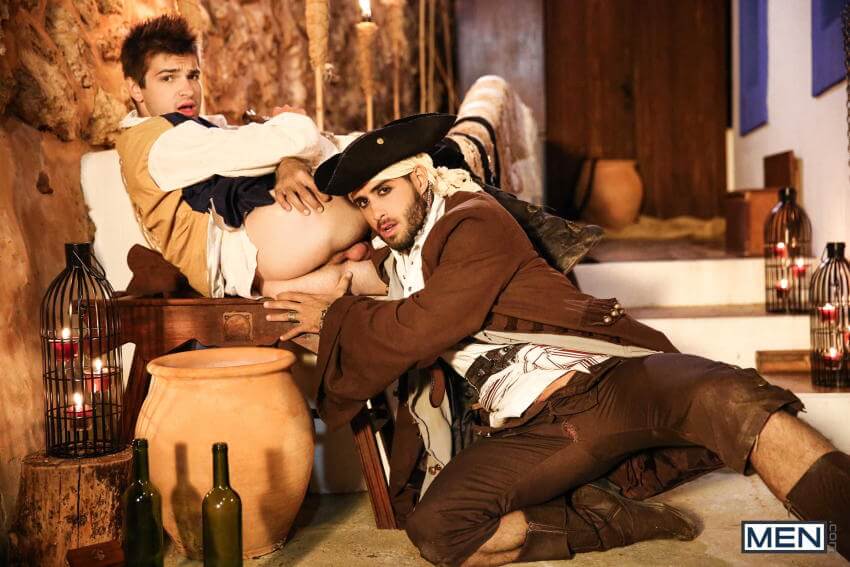 When the sex starts, Johnny is the perfect captain's aid, wrapping his mouth around Diego's impressive cock (who can't get enough of Johnny's sucking!). There's some hot gagging and throat fucking, with Diego not getting out of character for a minute.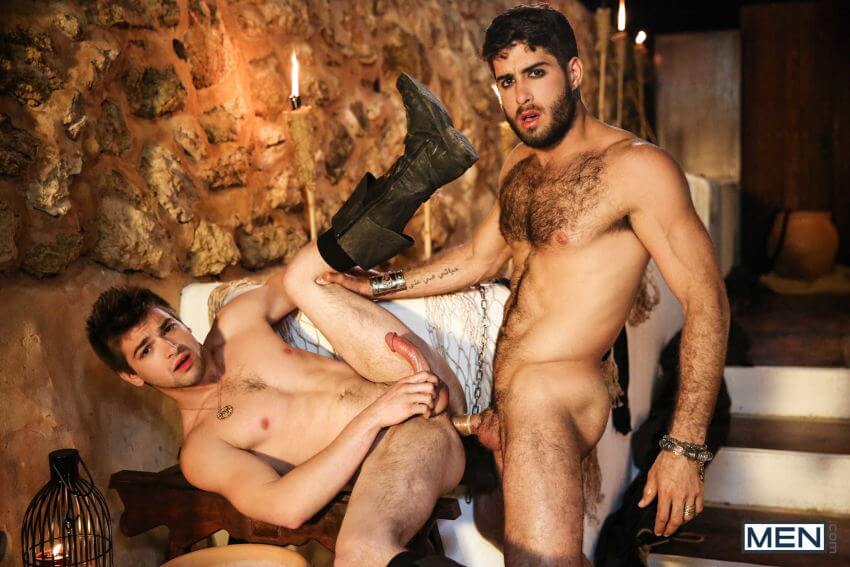 Johnny gets some good rimming from his captain ("Your tongue is so fucking long!"), and finally gets his captain's big dick in him, for some intense doggy style (and other styles) fucking.
Models: Brendan Patrick, Donny Forza, Jack Hunter, Jordan Boss, Rod Pederson
Finally, gay porn in space! With the real Star Trek making a big comeback in recent years, with the J.J. Abrams films and Star Trek: Discovery on TV, we really wanted a gay porn version of Star Trek – and we got one!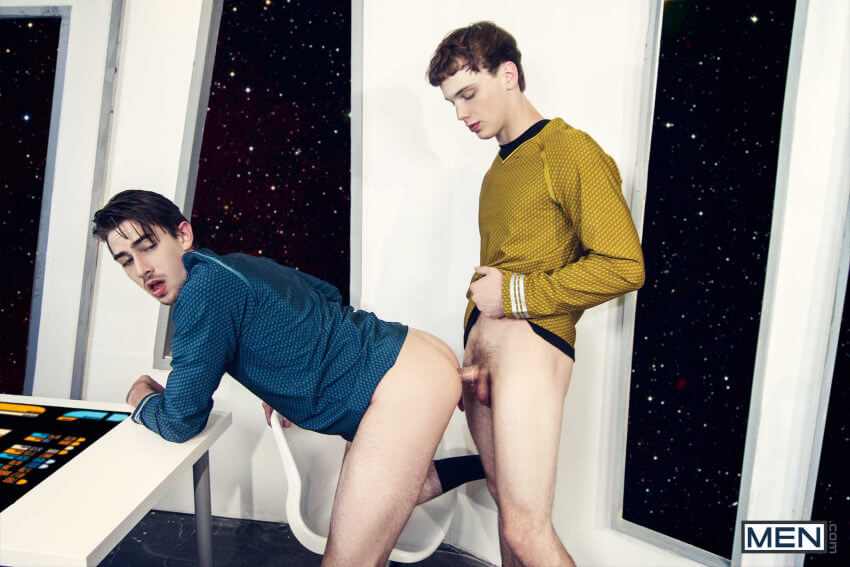 The series, which mostly spoofs The Original Series, stars Rod Peterson as Kirk, Jordan Boss as Spock, Donny Forza as Chekov, Jack Hunter as Doctor McCoy, Brendan Patrick as Scotty, Micha Brandt as Uhura (yep, Uhura is a man this time around) and Henier as Sulu.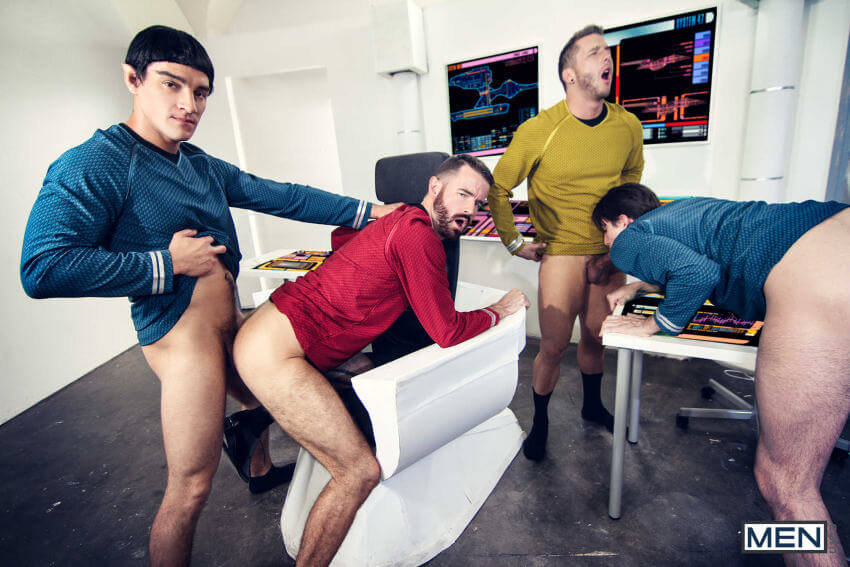 The production value is impressive, with scenes on board the ship as well as on "the planet" – there's even an alien monster.
Part 1 starts with Kirk and Spock having their usual bickering, but eventually they fuck – right on the captain's chair! Pretty soon the whole crew joins in on the fun, and the scene turns into a space orgy with a lot of fucking, sucking – and cum swallowing.
Who knew sperm would taste this good in space?
Models: Will Braun, Tobias
We've always had a soft spot for Spider-Man, the ultimate Superhero Twink. And in that regard, Will Braun as your friendly neighborhood Spider-Man doesn't disappoint (though he is more of a… twink with muscles? A twunk?) – and looks a lot like Tobey Maguire from the 2002 movie.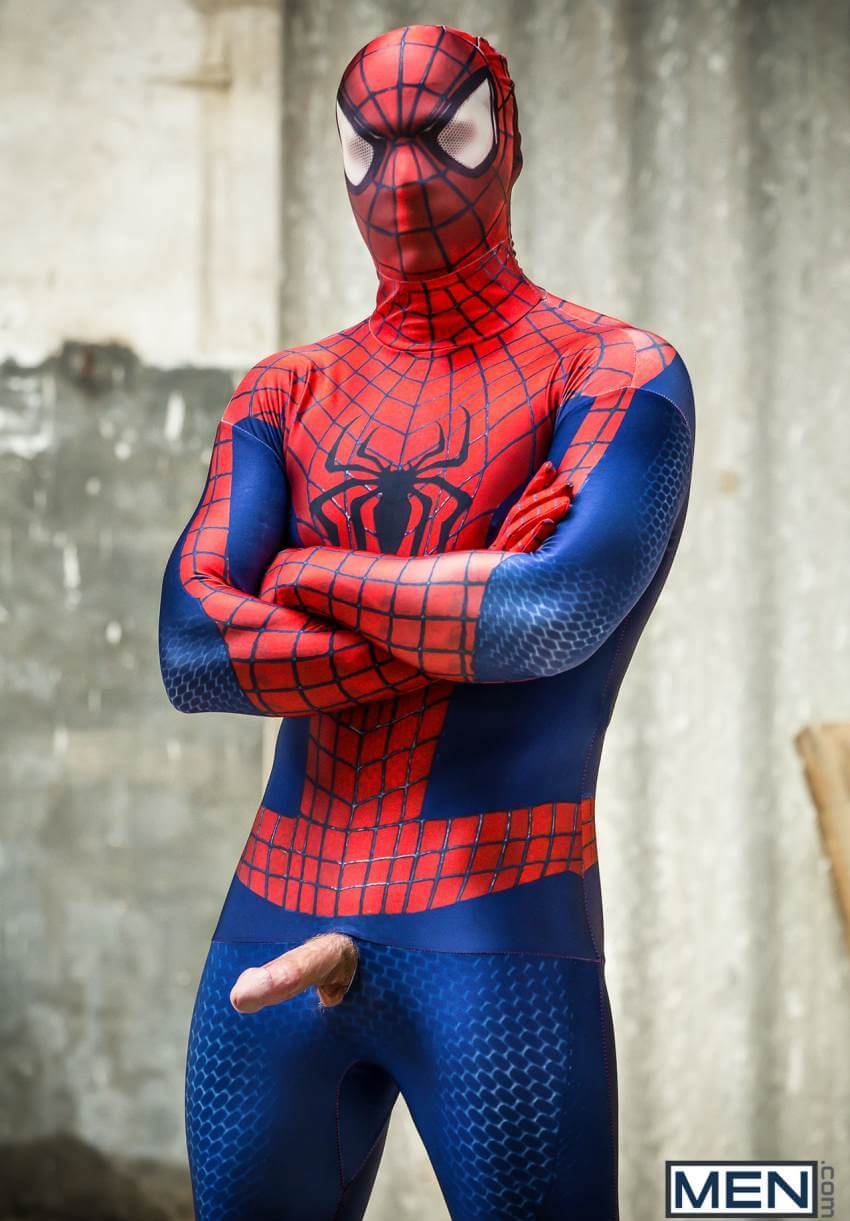 The scene starts with Will portraying the ultimate nerdy hunk, sitting shirtless in front of his computer at night, until he gets… a spider bite! The morning after, Will (as in, Peter Parker) discovers his super powers, which include a super-body and some super-fucking, it would seem.
The production values are, again, spectacular, with some impressive set-pieces and Will getting to wear the sexy-tight Spider-Man suit. There are villains, and fights, and scary moments, and oh yeah – some very hot gay sex, as Will/Peter discovers his new ability to shoot white, sticky web cum.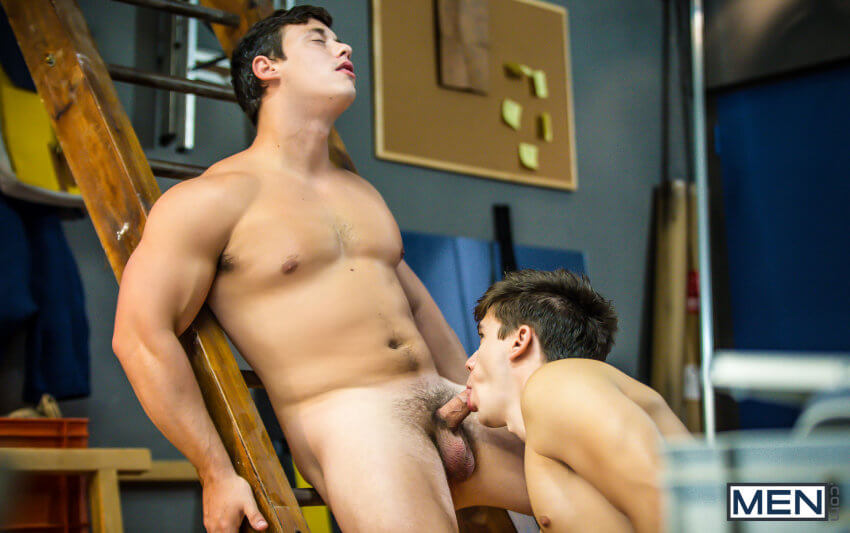 Part 1 pairs Will with Tobias, who portrays Peter Parker's best friend – Harry Osborn (who was played by James Franco in the 2002 film.) The two start the scene quarreling over… a guy, but then they find out they don't need other men – when they have each other.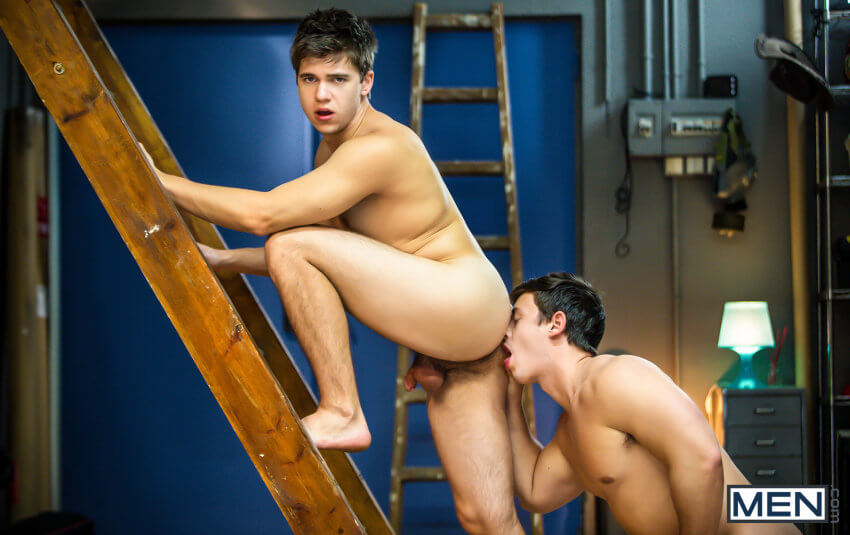 The two promptly get naked, showing some impressive muscles and smooth bodies, and after a long kissing session, they move on to the blowjobs. The two look really into each other throughout the scene, with a lot of moaning, ass spanking, rimming, and intense fucking, with Will/Peter taking it in deep from his buddy.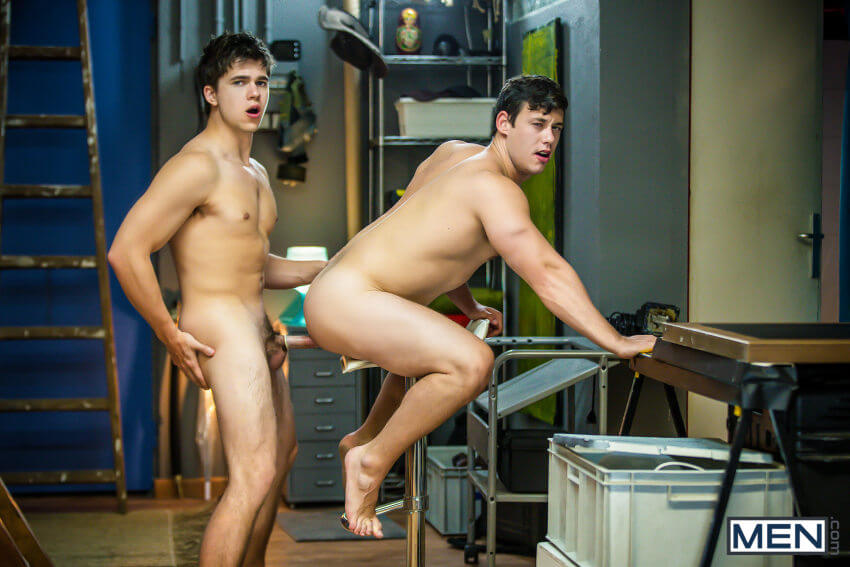 Then, they trade places – and Tobias gets some Spidey cock in him. Eventually, the white sticky goo comes out – but it's actually Spider-Man who takes a hot, wet facial.
Models: Brandon Cody, Colby Keller, Francois Sagat, Johnny Rapid, Ryan Bones
Justice League is the culmination (so far) of Men.com's gay porn parodies – with incredible production values and set pieces, high-quality costumes and CGI, and even a few surprising guest stars, such as popular YouTuber Davey Wavey and RuPaul's Drag Race star, Manila Luzon, as Wonder Woman.
The whole series is super-hot, but we picked Part 4, as it includes a 5-way orgy, featuring Superman (Brandon Cody), Batman (Ryan Bones), Aquaman (Francois Sagat), Green Lantern (Colby Keller) and the Flash (Johnny Rapid reprising his role).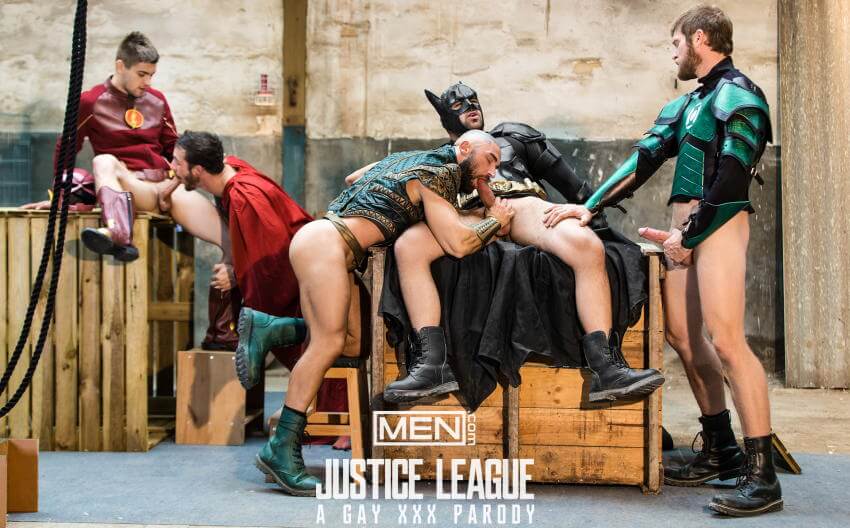 In this scene, the superheroes "rejoice" when they discover Superman is alive (and it's just as surprising as it was in the 'real' Justice League), and they decide to celebrate the best way the know how – with a super-orgy. Wonder Woman is kind of angry they only use her for the fighting – and not the fucking. But hey, this IS gay porn after all..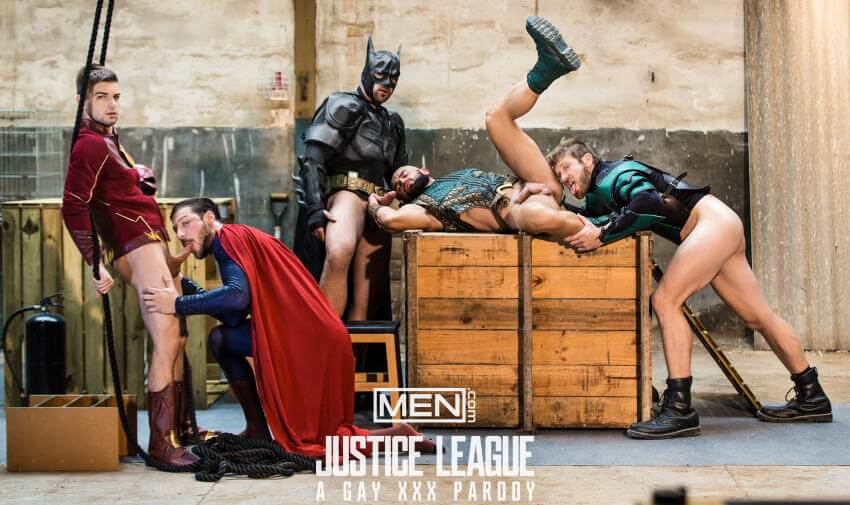 If you're into men in costumes (or superheros in general) you will really get a kick out of this scene, as they do most of the fucking in costume. The men (except for Johnny) are more of the rough, hairy muscular type so if you're not into that, you might prefer the Spider-Man scene in number #2. But if you like burly men, you're going to get a very sexy roller coaster ride.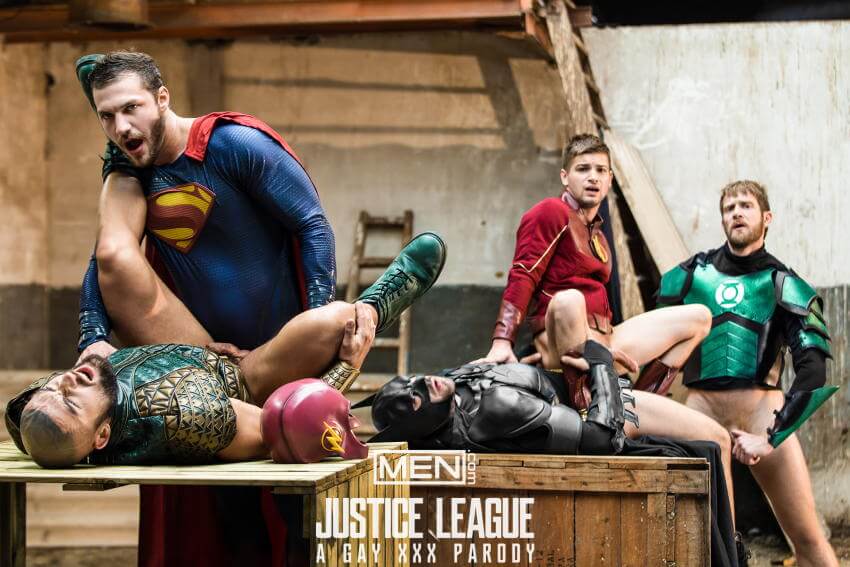 They trade places and positions, there's sucking and rimming and fucking and talking dirty to each other, and it all ends with a series of explosive cumshots (even Superman's costume gets dirty… who does his dry cleaning?).
If you want to start with Part 1 – you can find it here.
Want More Gay Porn Parodies?