Levi Karter's
Top 6 Gay Porn Scenes
Levi Karter is one of the biggest names in gay porn world today – but he comes from humble beginnings.
Levi was adopted in Paraguay at a very early age, and then moved with his new family to Ohio. When he was young, he had girlfriends – but then came out of the closet at the young age of 14.
Before college, he was a jazz and Hip-Hop dancer, and then became a cheerleader, until he eventually met with Jake Jaxson, director and owner of CockyBoys, where he pretty quickly became one of their biggest stars.
Other than his amazing body, Levi's success can also be attributed to his good nature – he always seems to be smiling, and there's something very cheerful about him – even when he's having rough sex on camera…
He loves filming and recording himself, which has led to the creation of "Fuck Yeah Levi Karter", a unique project in the gay porn world (and porn in general), made of clips, recordings and behind-the-scenes videos of Levi talking to the camera, discussing serious things with his mother, and – having sex with friends.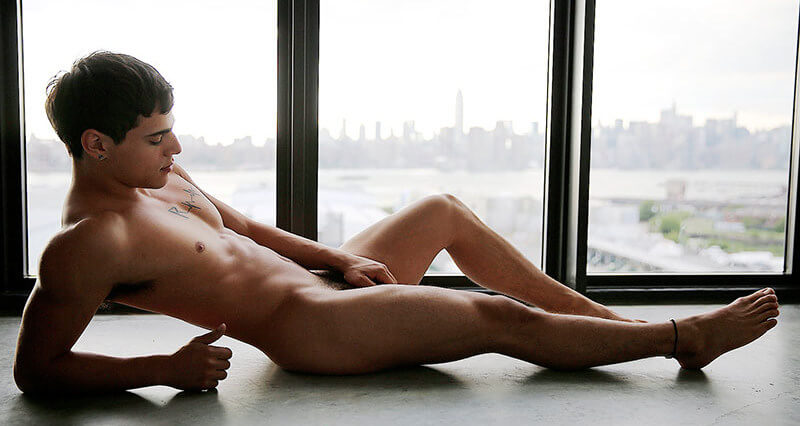 Models: Levi Karter, Sean Zevran
One of Levi Karter's newer scenes, this hard, no-holds-barred sex session with Sean Zevran will surely go down as an instant classic.
Levi Karter and Sean Zevran are like a match made in heaven – nevertheless, the scene starts with Levi leaving his "boyfriend", Sean, in bed – while he goes to look for trouble at a NY club. There's a funny part where he spends some time with an old acquaintance at a "bouncy room", filled with inflatable… breasts.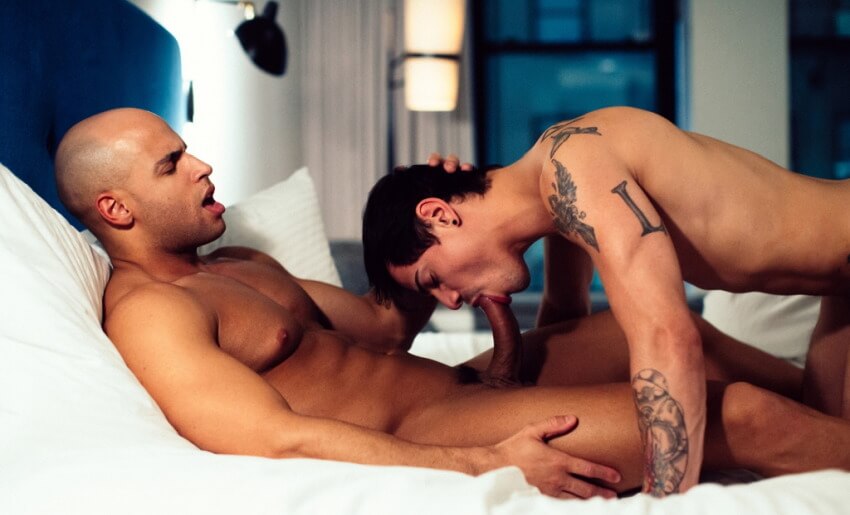 But worry not – Levi understands he has no need for other men with someone like Sean waiting at home, and he goes back for some super-hot sex.
The sex itself is rough and dirty, with the two presenting excellent chemistry. Levi deep-throats Sean's cock for a few tantalizing moments (hearing a guy gag on cock is always a huge turn-on), then he gets some rimming, and then the fucking starts.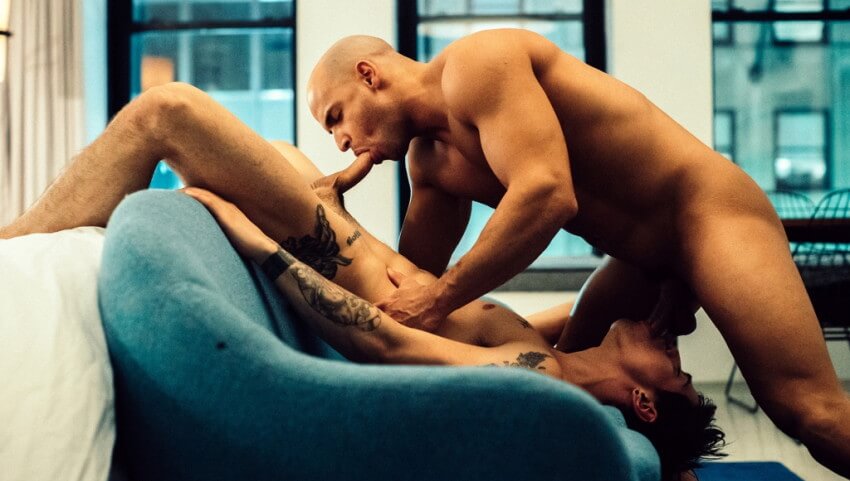 Sean knows how to fuck – but in this particular scene, it's actually Levi who does a lot of the work – demonstrating what a Power Bottom is meant to be. Sure, he's the bottom – but it almost feels like he's the one doing the fucking, grinding back and forth against Sean's dick, jumping up and down on top of him… it's all extremely hot.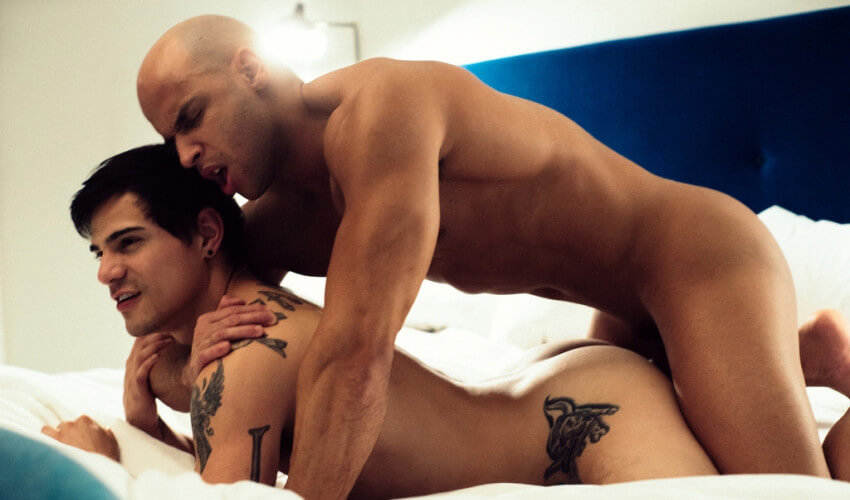 Levi ends up shooting his load while he's getting fucked, and then gets a sticky facial from Sean. It's really a scene you shouldn't miss, with both stars at the top of their game.
Trailer:
Models: Levi Karter, Ashton Summers
Ashton Summers is now a big gay porn star over at Helix Studios – but back in 2016, he was still filming for CockyBoys, and we're thankful for that – because it brought us this scene of him fucking Levi Karter.
It all starts out in nature, and the two look great in the lush green setting. They check out each other's tattoos (literally – that's not a euphemism), they talk a bit – and then the sex starts.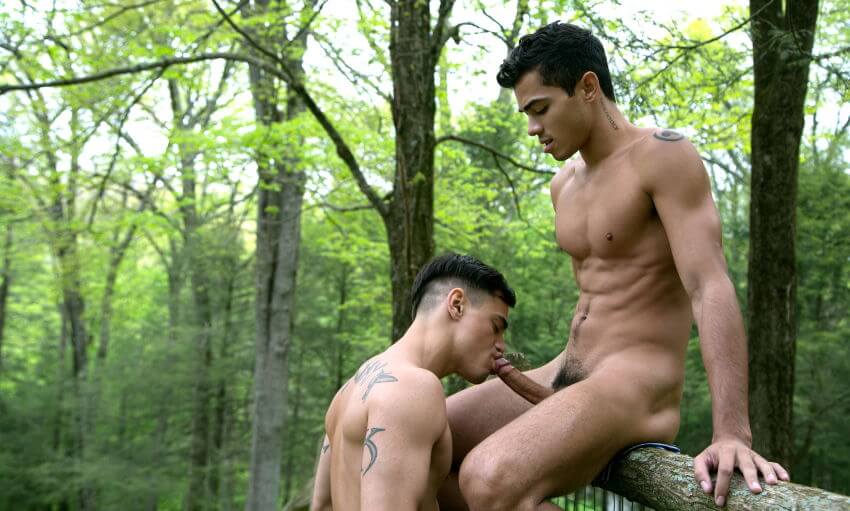 They stay outside for a while, with Levi taking Ashton's big cock down his throat, showing his impressive deep-throating skills. They trade places, with Ashton sucking Levi (doing a good job – but not quite as adapt at taking a whole dick like Levi is – though he sure gives it a good try.)
Eventually they go inside, where after some more sucking, 69ing, and some rimming (our highlight being Levi on top of Ashton, with Asthon face fucking Levi hard and deep), the fucking starts.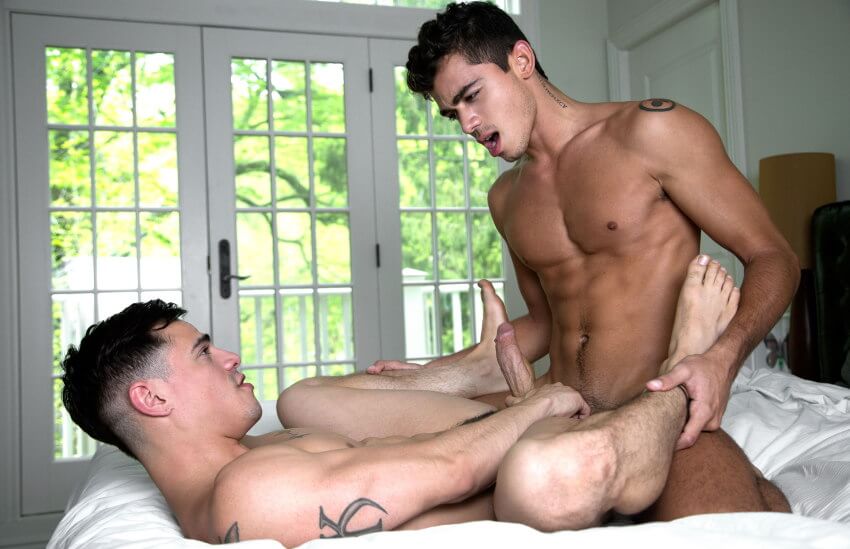 They flip positions left and right (and up and down) – Levi sitting on Ashton's dick, Ashton spreading Levi's legs and plunging in, Levi on his stomach… there's a lot of hot fucking, and explosive chest cumshots at the end (no facials though.)
Models: Levi Karter, Colby Keller, Will Wikle
One thing CockyBoys are known for, are their ambitious, multi-part gay porn movies that actually have a story, a plot and some artistic filmmaking. Sure, we're here for the sex, but sex can look a whole lot better when everything around it is top-notch.
The Stillest Hour, made up of two long scenes, is "a twisted new take on the psycho-sexual thriller genre". Part One features Levi Karter, Colby Keller and Will Wikle.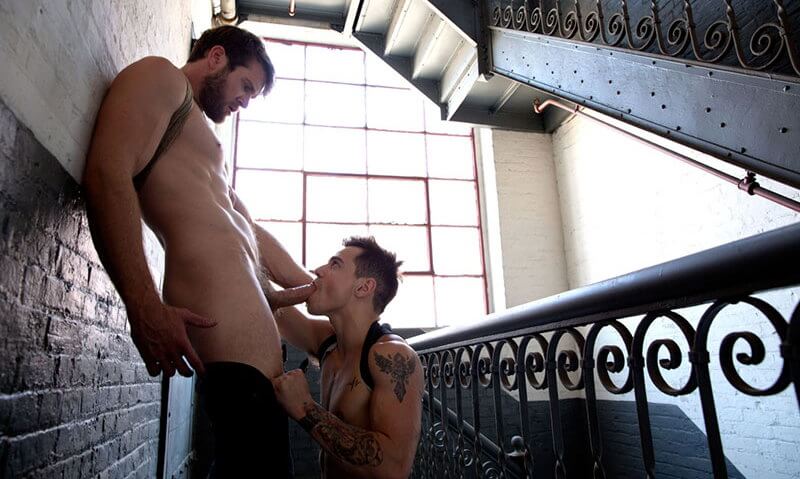 We don't want to spoil the story, so let's talk about the sex. With Colby Keller and Levi Karter both being such big names in gay porn, their pairing had to be explosive – and it is. The sex between them all takes place in a back staircase room, and the fact there's no bed to be seen makes it all even hotter.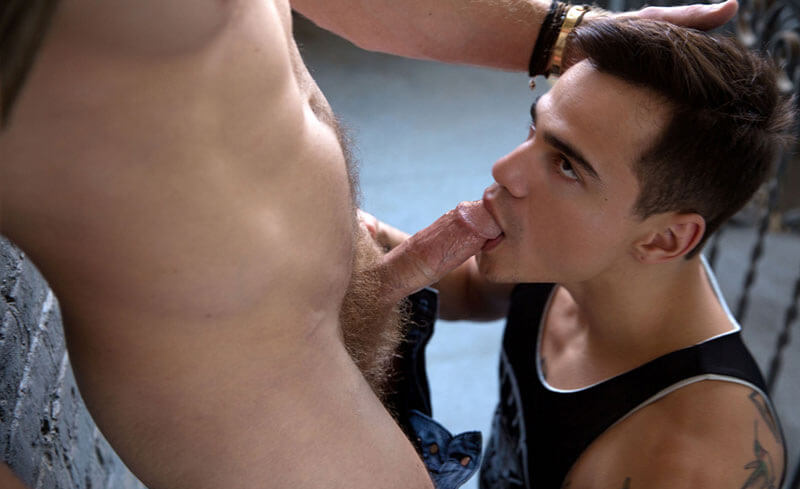 Colby starts by lifting Levi up in his big arms, slapping his ass and playing with his hole, all while kissing him heavily. They proceed to some intense face-fucking – The throat fucking is really hot, with some gagging and face-slapping, and if you're a fan of rough deep-throating, you're really going to get your fix here.
From there we move on to the rimming, with Levi balancing himself in the air, against the wall, with Colby's face deep in his ass.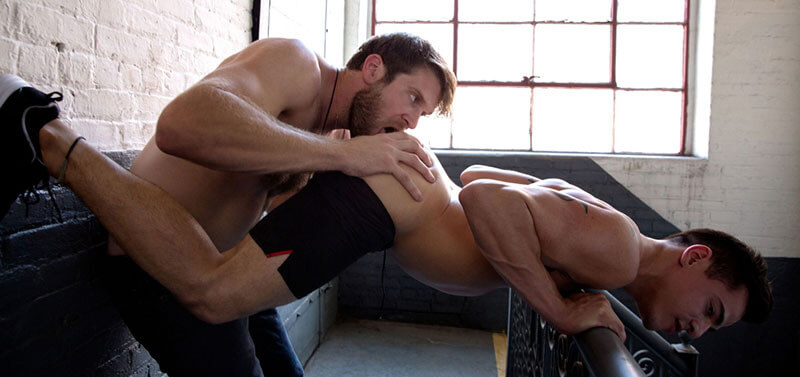 The fucking is as hard as you would imagine, Colby thrusting deep into Levi's hole, first taking him from behind and then against the wall. Colby's grunts and Levi's sexy moans really help drive it all in (pun intended.)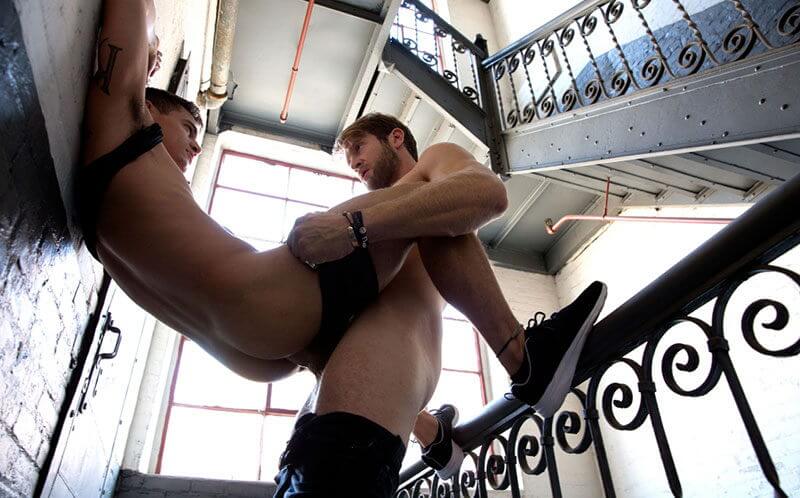 Colby eventually cums all over Levi's chest (don't worry, Levi tastes some of it) – and we go back to the story, to give you a taste of Part 2. and Will Wikle.
Models: Levi Karter, Liam Riley, Michael Milano, Ricky Roman, Tayte Hanson 
Meeting Liam is another one of CockyBoys' ambitious multi-part projects that make up a a full story – a movie, if you will. This one put together runs at 4 hours (!), and thankfully you don't have to watch the episodes apart, as the studio also released it a a full, 4-hour movie full of sex, scares and jokes.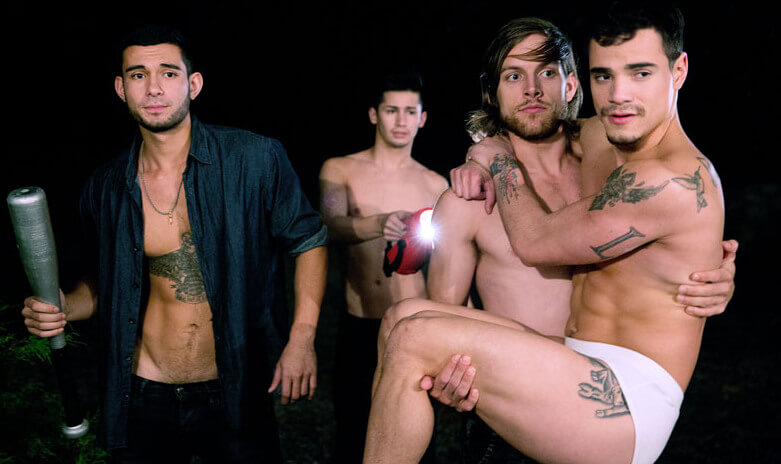 The film is an erotic "found footage" horror tale, done in a mockumentary style, with Levi talking to the camera throughout. The big stars of the feature are Liam Riley (hence Meeting Liam) and Levi – and both are featured in most of the scenes.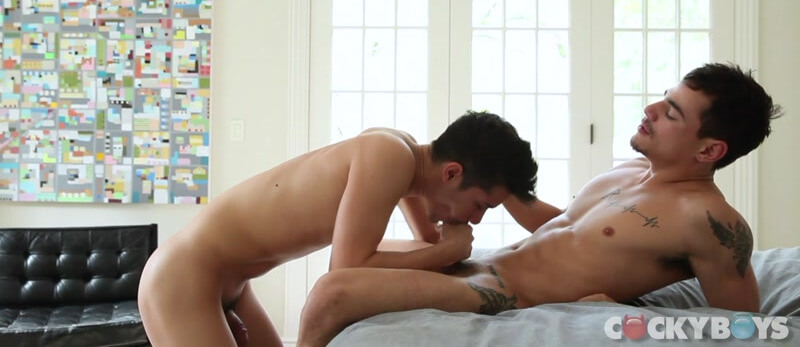 The story is interesting and a joy to watch, but worry not – it's also choke-full of hot gay sex, with a mix of pairings and positions. The first scene features Levi and Liam having a quick blowjob session that ends with a tasty facial (plus a GHOST!).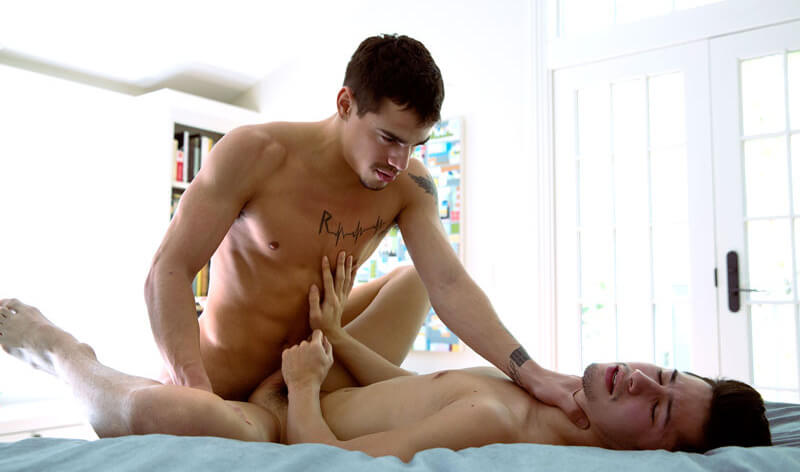 Next, we get to see the other models pitch in as well, and they all have sex in a some very interesting locations (haunted cabin, anyone?).
The sex is what you would expect, but the setting and atmosphere really add a lot. Obviously you won't be able to watch it all in one sitting, as you'll probably reach an orgasm a lot sooner – but start at the beginning, watch another part each time… and you won't regret it.
Models: Levi Karter, Colby Chambers, Mickey Knox
Colby Chambers and Mickey Knox are, by now, two big gay porn stars who run their own gay porn website. But back in 2016, they did this scene with CockyBoys, and – luckily for them – got to have sex with Levi Karter.
As is often the case with CockyBoys scenes, it starts with the two boyfriends (at the time… by now they're married) talking about each other and opening up about their relationship.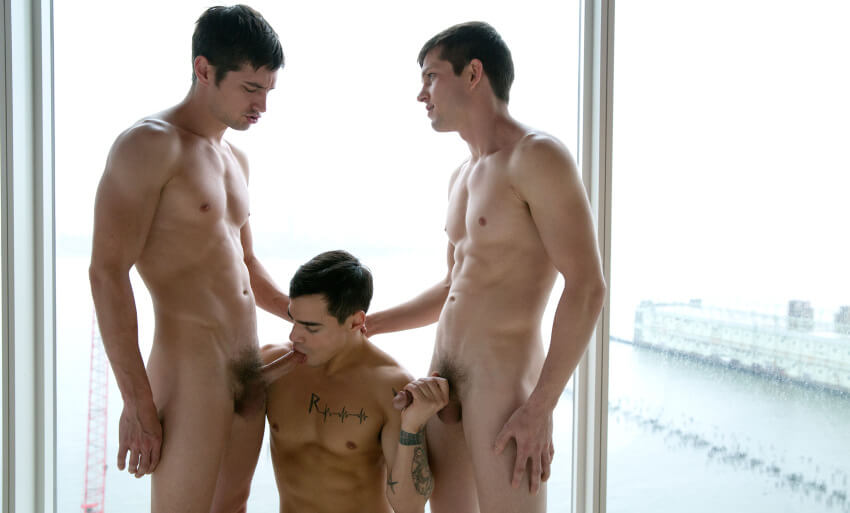 The scene takes place in an apartment overlooking a busy city view, which gives a nice background to the three naked men standing and looking out the window while feeling each other up.
Colby and Mickey know very well how to please each other – but they seem to be having a lot of fun with Levi stuck in the middle – and Levi's having just as much fun.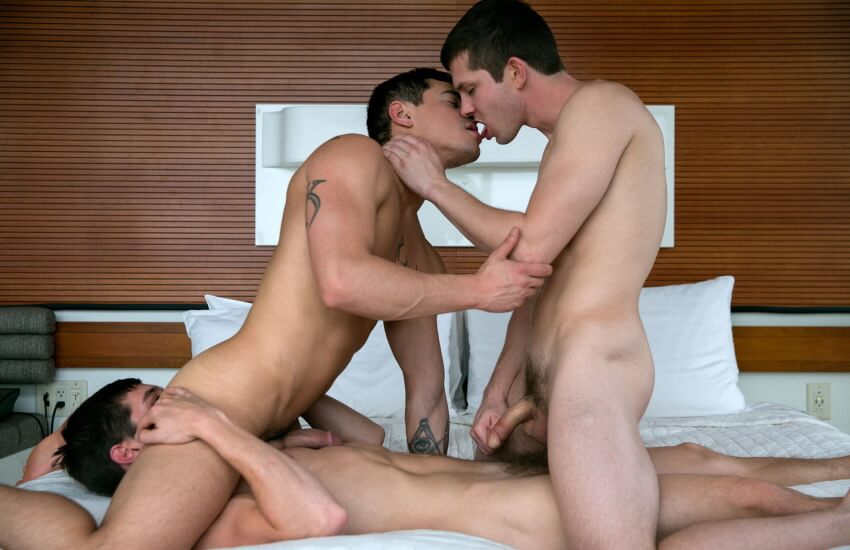 He gets to suck both men (there's throat-fucking galore), and he even somehow takes BOTH their cocks in his mouth at the same time. They move on to a beautiful circle of sucking, with each man getting a dick in his mouth, and we get the first cumshot of the scene (there'll be more!)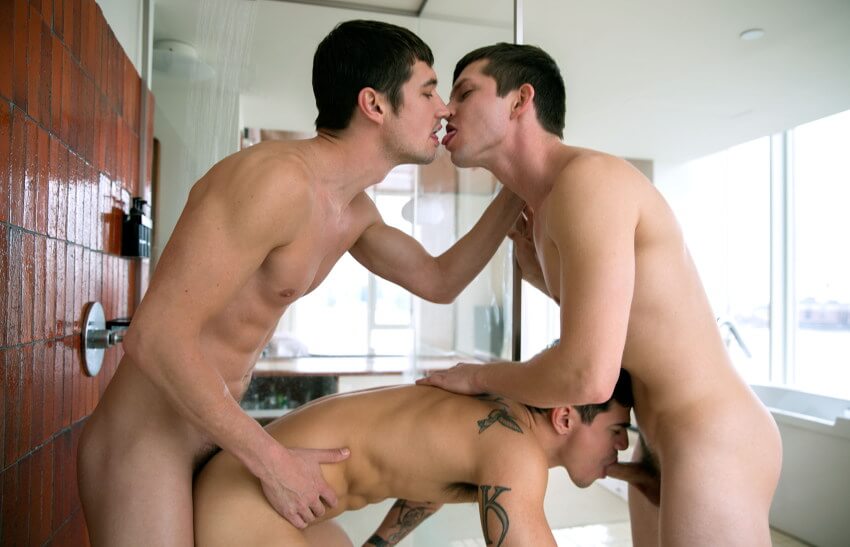 They all take an intimate shower together, and then the fucking starts – IN the shower. Eventually they move back to the bedroom, and the fun continues, with fucking, sucking, rimming and everything these three can get themselves into.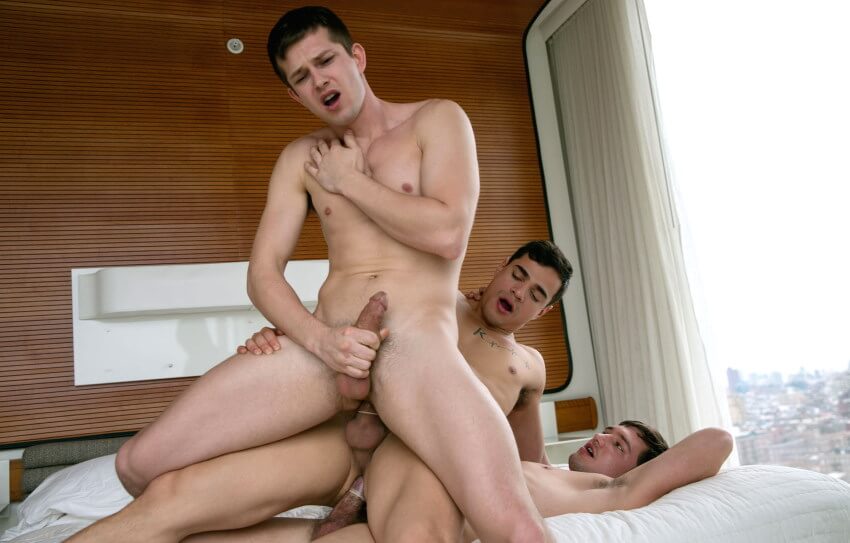 It ends in a threeway fuck session, with Levi sandwiched in the middle, and then one final explosive cumshot.
The scene is long (almost an hour in total), and you'll probably see it in pieces (because it's so hot) – but it's a real classic.
Models: Levi Karter, Carter Dane, Jimmy Durano
Sometimes in gay porn, it's not just about the sex. It's also about the location, about the models, and about how it's all shot and put together. And this scene ticks all the boxes, with some of the most beautifully shot sex we've ever seen, in a gorgeous sea-side location that adds so much beauty to the sex.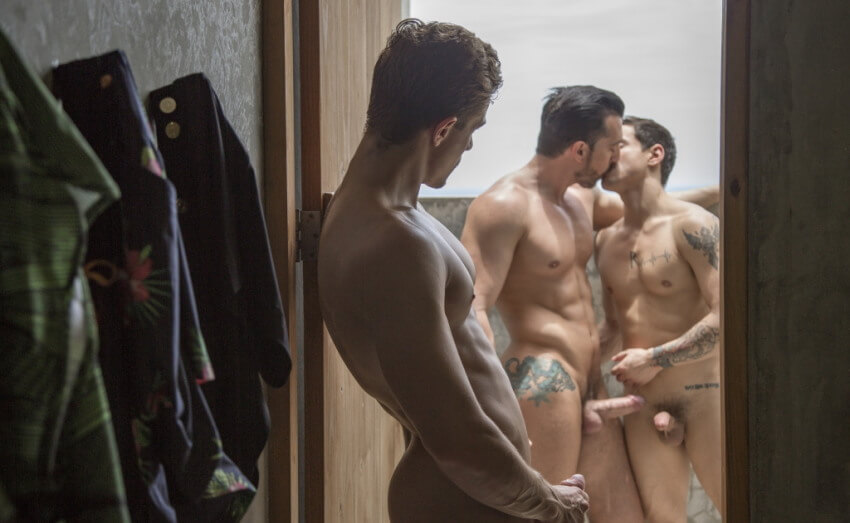 The scene is Part 4 of the "Just Love" series, done in a documentary style and dubbed "A Porn Star's Guide To Sexual Freedom." It was shot on a private island off the coast of Puerto Rico, and this part features Levi Karter, Carter Dane and Jimmy Durano.
The scene starts with Levi talking candidly in front of the camera about his origins, his acceptance of himself and his life as a gay porn star. If you're a fan of Levi, these are special moments, seeing him open up like that.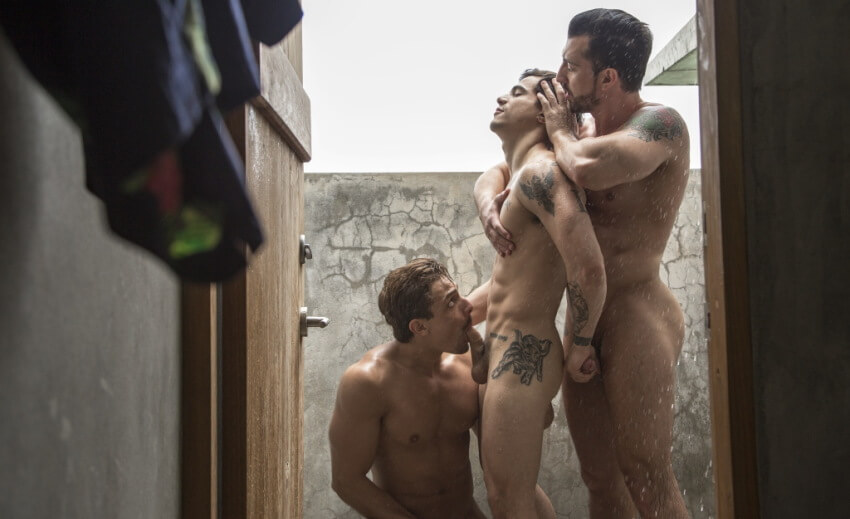 All the while, we see the three handsome men enjoying themselves around the beach and in the water. Carter and Jimmy end the day by taking a naked shower together, but don't worry – Levi joins them, and they have a passionate, intimate kissing session, rubbing each other's bodies, and yes, sucking some dick (Levi gets to suck both of them at once!)
From there, they move to another beautiful setting – the poolside, where they have sex around an interesting pool chair (yes, a pool chair can be interesting.)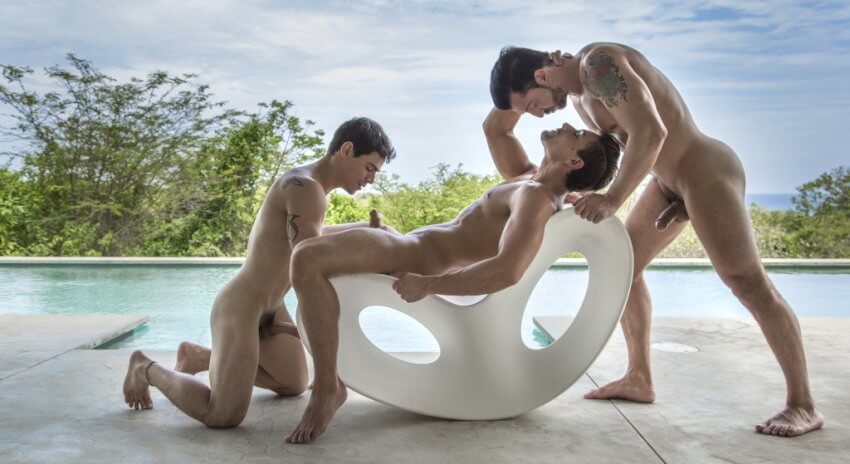 While most of the other scenes on this list are "hard, rough and fast", this one is just the opposite – the men take their time kissing (a lot!), touching each other, all while fucking and sucking each other with deep, slow thrusts. (And yes, Levi is a master deep-throater as usual.)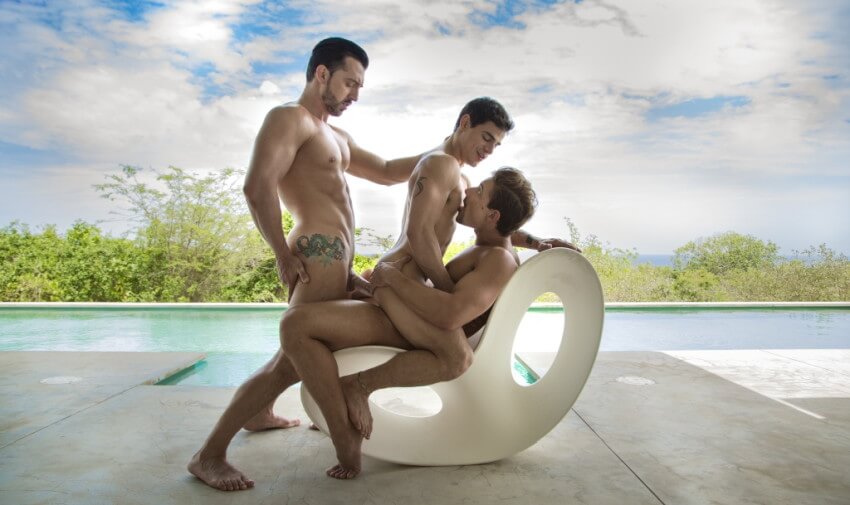 The three trade places nicely, with Levi usually in the middle, either getting fucked, sucked, rimmed, and anything in between. The sex continues after the first cumshot (they even go into the pool), and Levi gets to suck some balls while cum is splashed all over him.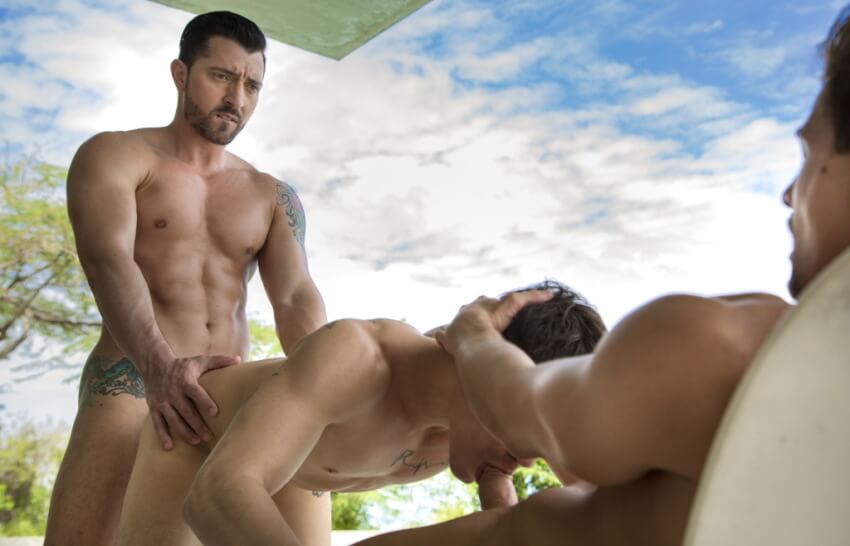 If you want the ultimate Levi Karter experience – start with this scene.
Want More Levi Karter Scenes?