Blake Mitchell Is Finally Back With A New Scene
After six months, we finally get a new gay porn scene from Helix Studios' superstar Blake Mitchell – "Dickin' Of The Sea" – And it's one of his hottest ever, with newcomer Cole Claire
The wait is finally over! Gay porn superstar Blake Mitchell's last scene for Helix Studios was released back in… August 2017. So sure, by then he filmed more than 50 scenes (look here for Blake Mitchell's Top 6 Scenes), but how many times can you watch the same ones again and again? We wanted something fresh… 
And now – not only did we get it – but it's one of Blake's hottest scenes ever, putting his perfect body and enormous dick to perfect use.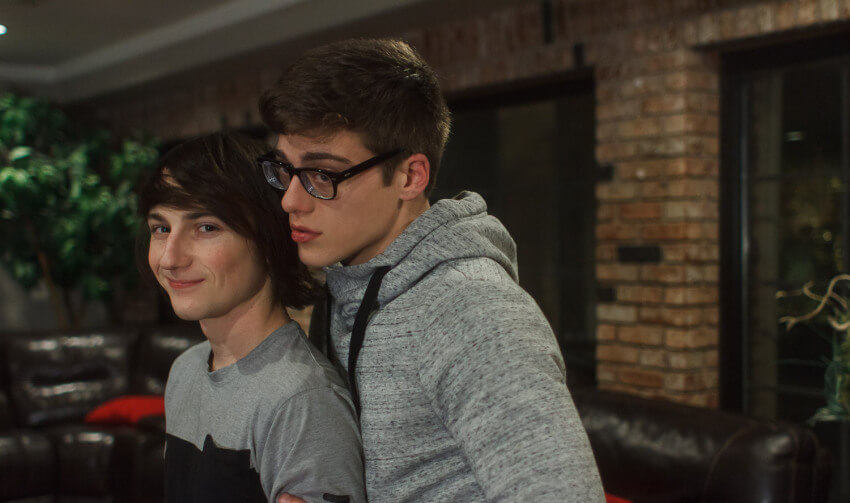 The new scene, called "Dickin' Of The Sea", pairs Blake Mitchell with popular newcomer Cole Claire. It's an interesting pairing – Blake is big and muscular, and Cole is small and nimble – but they both know exactly what to do with their bodies – and with each other.
The scene was filmed a few weeks ago, and was released right on Valentine's Day. Cole had this to say about the sex in it:
"I didn't know what sex was until Blake Mitchell. I can't thank Helix Studios enough for making this happen."
Well, that goes for us too!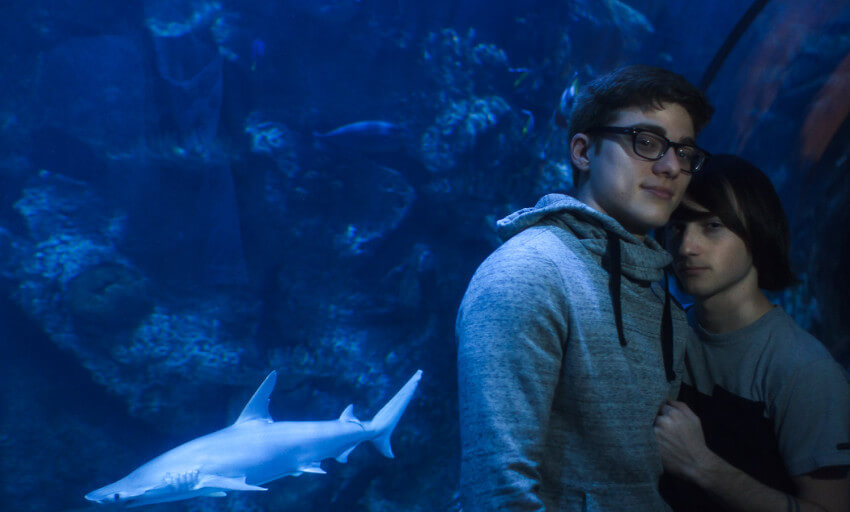 The scene starts with Blake and Cole on a romantic date at… the aquarium. They have some romantic fun in there, kissing and playing around – and they look gorgeous against the blue colors of the ocean.
When they get back to the house, Cole is already bouncing around, jumping on the couch on all fours – he just can't wait to get the "Mitchell Treatment" – can you blame him?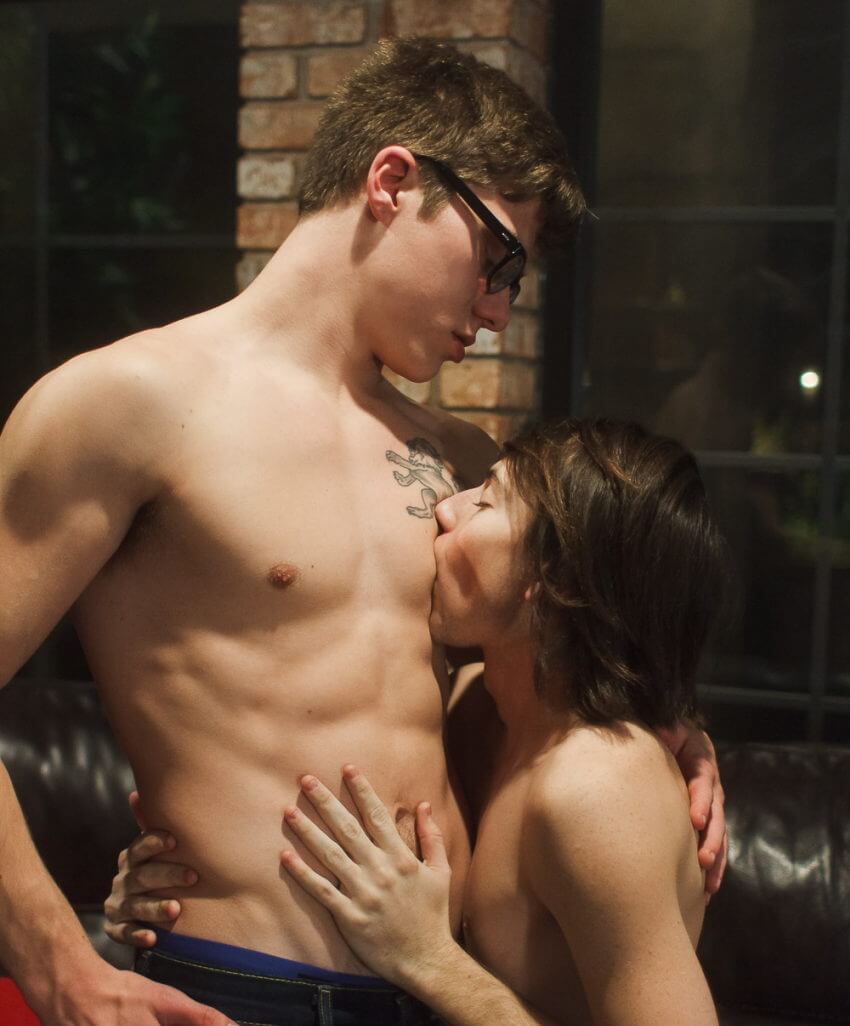 Cole's reaction when he sees Blake's huge cock for the first time is priceless – and expected. He starts sucking it like a pro, somehow taking the whole thing in – we haven't seen a lot of Helix boys being able to swallow Blake whole – but Cole is definitely one of them, and Blake enjoys every second of it.
Blake gets a taste of Cole's cock as well, then dives in for a rimming session, followed by a super-hot fingering, using two fingers to prepare Cole's eager hole. Blake alternates between his tongue and his fingers, and Cole is almost over the edge by now.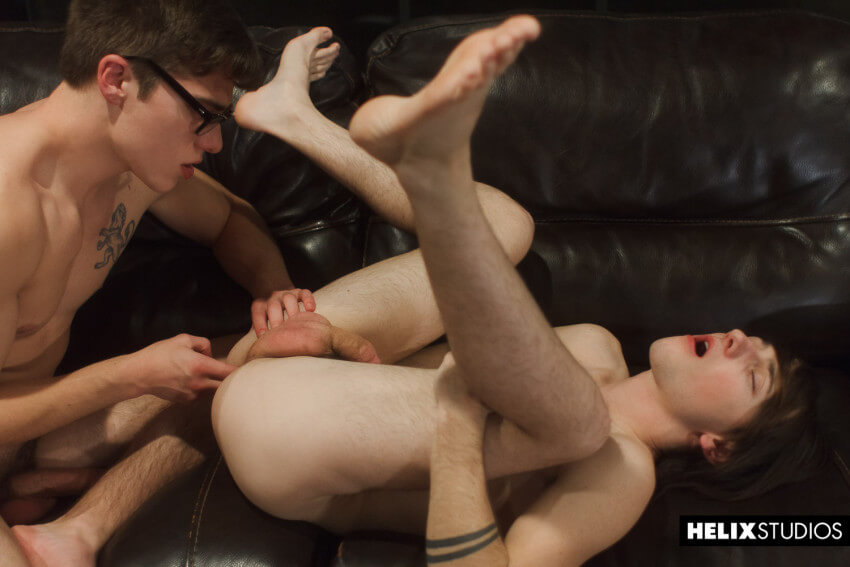 Finally, Cole gets Blake's big dick inside of him, bareback. The fucking is hard and fast, Cole moaning wildly throughout the whole thing. Blake keeps changing his rhythm – from slow, sensual fucking to hard full-length thrusts – and it's one of the hottest things you'll see this year.
Blake slamming my body down on his cock forced quite a few whimpers out of me that night…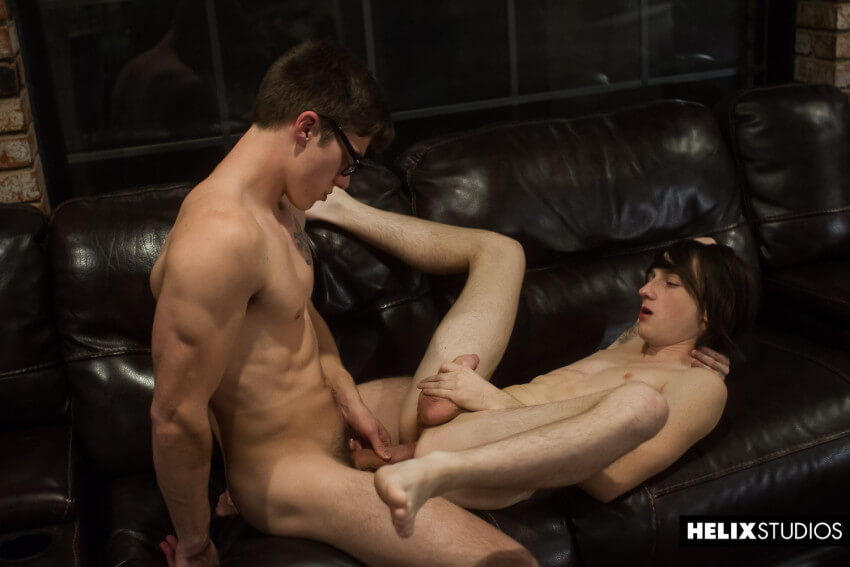 The hottest part though comes when Blake, the muscled-up boy that he is, LIFTS Cole up from the couch and starts fucking him mid-air. It's a fucking position you don't see that often, because it takes a lot of strength – which Blake obviously has… Seeing Cole hung up in mid-air, his arms wrapped around Blake's neck, with Blake's dick going in and out of his ass… it's sure to send shivers down your, well, everywhere.
The cum-shots are just as hot, with Cole shooting his load while being fucked, and then Blake giving Cole a very wet facial, covering his whole face. Not wanting to lose any of it, Cole goes back down to suck every drop of of Blake's cum.
While having to wait 6 months was excruciating, "Dickin' of The Sea" was worth the wait – it's not only one of Blake Mitchell's hottest scenes ever, but already one of the hottest scenes this year – and we're only in February. 
Watch the trailer right here: